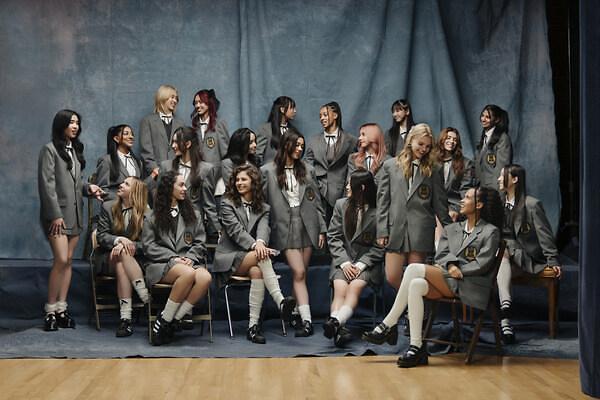 SEOUL -- The agency of BTS has revealed the final 20 contenders for "The Debut: Dream Academy," a global audition program to launch a new girl band with K-pop features. The 20 members were picked among about 120,000 applicants from all over the world. Starting on September 2, the twelve-week final audition process will be uploaded on YouTube and other social media platforms.

Hybe has worked with Geffen Records, a major music label of Universal Music Group (UMG) since 2021 to create the new girl band. The two groups agreed to form a joint venture and utilize Hybe chairman Bang Si-hyuk's know-how and incubation experience. Hybe has nurtured various groups including BTS and Le Sserafim, a five-member girl band.

The two groups unveiled 20 contestants who went through training for a year in the United States on August 29. The members selected through the intense competition are from 12 countries -- South Korea and the U.S., Japan, Brazil, Argentina, Switzerland, Sweden, Slovakia, Belarus, Thailand, Australia, and the Philippines. The final selection process will be also uploaded on Instagram, Facebook, and TikTok.

"To develop a global group with Bang, with the best of K-Pop methodology, and our Geffen team, is truly special and will bring to life a first-of-its kind experience in music," Interscope Geffen A&M CEO John Janick said in a statement.

"I have wanted to form an international group based on K-pop methodology for a while. To do this, I believed we needed a capable partner," said Bang. "When I met John (Janick), from the first moment, we both felt instantly that we had a connection, musically and creatively."

South Korean entertainment agencies have worked with global entertainment powerhouses to diversify their market. In July 2022, the agency partnered with Republic Records, an American record label that includes Taylor Swift and Ariana Grande, to create an English-speaking girl band. Members selected through audition are set to debut in the U.S. after intensive training in South Korea. Currently, a total of 14 episodes showing the audition process are uploaded on YouTube.

© Aju Business Daily & www.ajunews.com Copyright: All materials on this site may not be reproduced, distributed, transmitted, displayed, published or broadcast without the authorization from the Aju News Corporation.