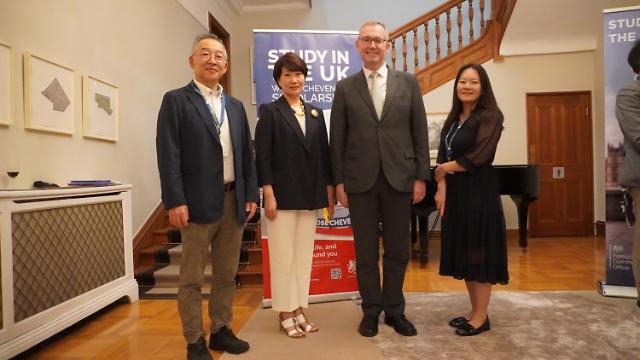 SEOUL -- The British Embassy in South Korea has held a reception for 11 South Koreans selected for Britain's scholarship program "Chevening." The recipients can pursue a one-year master's degree at any university in the United Kingdom with full financial support.

Chevening, run by Britain's Foreign and Commonwealth Office, was launched in 1983 to support international students to study in the country. The program, available in 160 nations and regions, currently has about 55,000 alumni and more than 1,200 of them are Korean. According to data released by the British Embassy in Seoul, about 36 percent of Chevening scholars choose to major in science, technology, engineering, and math (STEM)-related fields or health science. Around 35 percent study social science subjects.

The British Embassy said the "pre-departure reception" for this year's South Korean Chevening scholars took place at the ambassador's residence on August 29. The researchers will study in various fields including economics, criminal justice policy, and public administration. The reception event was also attended by South Korean Chevening alumni such as Maing Eun-joo, who is serving as executive director for the Design Research Institute and World Design Capital 2026's organizing committee chair.

The design expert, graduated from Kingston University, is still providing financial support for her graduate school where she studied curating contemporary design. "I was able to meet colleagues and experts from all around the world," Maing said in an interview, adding that she could utilize her knowledge regarding famous design companies and events right after graduation.

"I hope this could be a great opportunity for you to study hard and gain many different experiences in the UK," British Ambassador Colin Crooks said in Korean during his congratulatory speech. The envoy urged that his country has many prestigious institutes. "In the latest QS World University Rankings, 17 of the world's top 100 universities in the world are in the UK," said Crooks. "We hope you will return to Korea with a lasting affection for your time spent in UK."

Although there is criticism that the British company "QS" ranks academic institutes based on subjective evaluation criteria, it is still regarded as one of the most trusted ranking providers along with the Times Higher Education.

© Aju Business Daily & www.ajunews.com Copyright: All materials on this site may not be reproduced, distributed, transmitted, displayed, published or broadcast without the authorization from the Aju News Corporation.