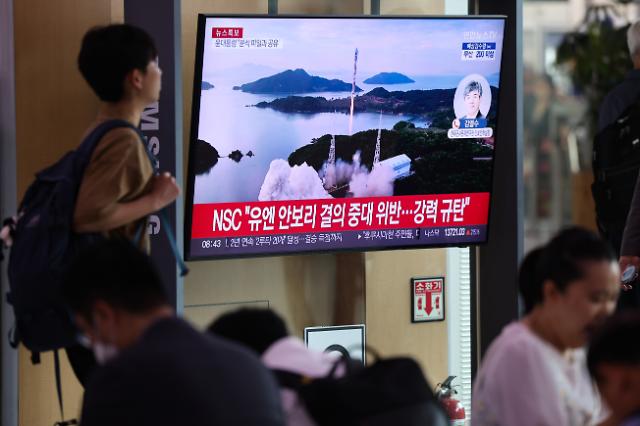 SEOUL -- North Korea has fired two ballistic missiles from Sunan northwest of Pyongyang near midnight of August 31, South Korea's Joint Chief of Staff reported. The missiles flew about 360 kilometers (223 miles) and landed in the East Sea. The missiles were fired for the first time since July 24 when Pyongyang fired two short-range ballistic missiles into the East Sea.

The Joint Chief of Staff (JCS) predicted that North Korea has simulated an attack scenario on Gyeryongdae, a military complex that houses the headquarters of the Republic of Korea Armed Forces branches, some 140 kilometers south of Seoul. The distance between an airfield in Sunan and Gyeryongdae is approximately 360 kilometers.

Pyongyang released a photograph through its state-operated media agency on August 10 showing North Korean leader Kim Jong-un pointing to a map with his finger. South Korean military experts suspected the map depicted an area where Gyeryongdae was located. The JCS predicted that Pyongyang fired ballistic missiles in retaliation against an 11-day annual joint military exercise called "UFS - Ulchi Freedom Shield" involving South Korea and the United States forces.

According to the JCS, the missiles were fired from North Korea's Sunan area between 11:40 p.m. and 11:50 p.m. (1450 GMT) on August 30, the day B-1B, a U.S. strategic bomber plane, was deployed to South Korea's airspace to join the UFS drill. The U.S. bomber called by its nickname "Swan of Death" is capable of carrying nuclear weapons or up to 57 tons of bombs. The joint drill ends on August 31.

"North Korea's consecutive ballistic missile launches constitute a significant provocative act that not only threatens the Korean Peninsula but also undermines peace and stability in the international community. We strongly condemn this action as a clear violation of United Nations Security Council resolutions," the JCS said.

© Aju Business Daily & www.ajunews.com Copyright: All materials on this site may not be reproduced, distributed, transmitted, displayed, published or broadcast without the authorization from the Aju News Corporation.