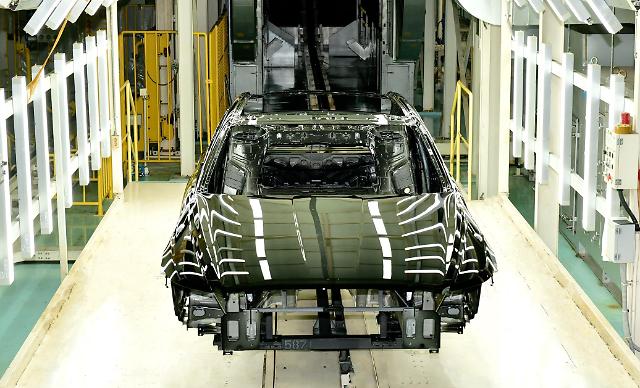 SEOUL -- South Korea's Hyundai auto group has developed paint curing technology and demonstrated the technique for the prototype of G80, a flagship sedan of its Genesis brand. The amount of carbon can be dramatically reduced by lowering the temperature of the manufacturing process.

Paint curing is the process of hardening the paint in the car manufacturing process. According to Hyundai Motor, the conventional painting process used melamine which could be cured at temperatures of 140 degrees Celsius (284 degrees Fahrenheit) or above. The newly developed paint contains isocyanate that can be cured at 90 degrees Celsius.

Hyundai Motor said on August 30 that its new curing technique was used at its factory located in South Korea's southern industrial city of Ulsan to produce the prototype for its Genesis G80. If the new technology is adopted in all Hyundai factories in South Korea and abroad, the conglomerate said about 16,000 tons of carbon dioxide could be reduced annually. This is the amount of carbon that can be absorbed by 2 million pine trees.

"Through the development of technology that significantly reduces energy consumption in the painting process, we should be able to get closer to our goal of achieving carbon neutrality by 2045," an unnamed Hyundai Motor official said in a statement. The company said the technique could be later used for urban air mobility (UAM). The automaker is involved in "UAM Team Korea," a public-private consultative body that aims to commercialize drone taxis in 2025.

© Aju Business Daily & www.ajunews.com Copyright: All materials on this site may not be reproduced, distributed, transmitted, displayed, published or broadcast without the authorization from the Aju News Corporation.