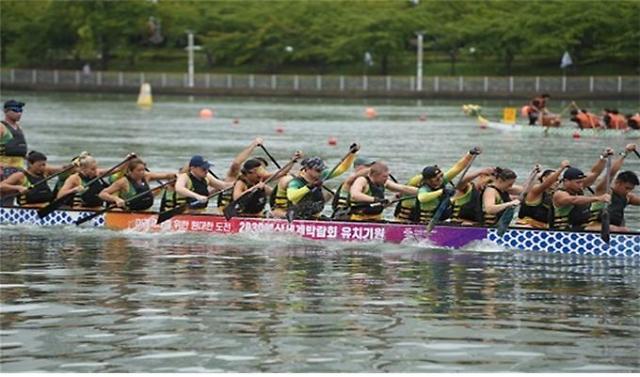 SEOUL -- A total of 16 teams from 12 countries including the United States and Singapore will participate in an international dragon boat competition in South Korea's southern port city of Busan. 12-seater and 22-seater boats with a dragon head and tail will be provided and all members should compete in 200-meter (656-foot) and 500-meter-races.

According to data released by Busan, the number of dragon boat lovers has increased all over the world after the water sport was officially selected for the 2010 Asian Games held in Guangzhou, China.

Starting on September 1, the official race will be carried out for three days in APEC Naru Park near Haeundae Beach. More than 350 people will take part in the race to win a trophy and medal. "Participants include amateur players and members of dragon boat clubs from foreign countries," Busan City's spokesperson Yoo Gwang-woo told Aju Korea Daily on August 31. The games will be held in open, mixed, and women's divisions.

During the festival, visitors can also enjoy various events such as online photo printing and creating Dalgona, a street snack made by heating sugar, and baking soda and mixing them. The snack gained popularity after it appeared in the Netflix drama series Squid Game.

© Aju Business Daily & www.ajunews.com Copyright: All materials on this site may not be reproduced, distributed, transmitted, displayed, published or broadcast without the authorization from the Aju News Corporation.