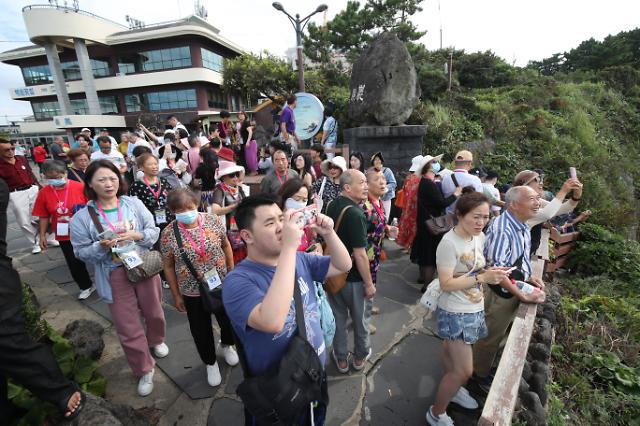 SEOUL -- South Korea will try to attract more Chinese tourists by exempting the fee for the application of the electronic travel visa and simplifying the process for duty-free tax refund processes. The country will also seek to upgrade its tourism environment by preventing over-competition by travel agencies and sales of overly budget travel programs.

Before Beijing imposed a travel ban on South Korea as part of retaliatory steps over the installment of an advanced American missile shield system in 2017, about eight million Chinese tourists visited South Korea in 2016 and the big-spending tourists were welcomed by duty-free shop operators and ordinary shop owners in tourist hotspots.

Although Beijing's travel ban mainly restricted group tourists, the total annual number of Chinese tourists dropped to about six million in 2019, just before the COVID-19 pandemic hit South Korea. According to the Bank of Korea, the deployment of the American missile system has taken a huge toll of at least 21 trillion won ($15.9 billion) deficit in South Korea's tourism industry since 2016.

In early August 2023, China lifted the travel ban to South Korea for the first time in six years and five months. According to sources from China's travel industry, 52 cruise boats scheduled to depart China on August 11 to visit South Korea's southern resort island of Jeju were fully booked in just one day. South Korea's duty-free industry welcomed Beijing's decision with open arms, hoping to regain its former sales level.

On September 4, the Ministry of Culture, Sports and Tourism announced special measures to attract more Chinese tourists to South Korea, which is designed to host more than two million annual Chinese visitors and contribute 0.16 percent point to the growth rate of the country's gross domestic product (GDP).

The culture ministry said that Chinese tourists' preference for traveling alone or traveling in small groups has increased since the COVID-19 pandemic. Also, themes of group tourist programs are being divided to satisfy the taste of picky travelers. South Korea predicts that the number of tourists will increase during China's national holiday which will begin on September 29 and end on October 6.

As part of the country's first step to attract more Chinese tourists, the country will exempt the fee of about 18,000 won for electronic travel visas for Chinese tourists until the end of 2023. The number of flight routes between South Korea and China's major cities will also be increased to boost the possibility of Chinese tourists choosing South Korea as their holiday destination.

Stores including general stores, cosmetics stores and drug stores in tourist hot spots will receive government support to upgrade their payment system so that tourists can receive duty-free tax returns on the go. Normally, tourists will collect receipts during their visit and receive tax refunds at the airport. Through the new system, tourists will only have to pay the retail price without tax. The maximum tax refund amount will be increased to 700,000 won from the previous limit of 500,000 won.

© Aju Business Daily & www.ajunews.com Copyright: All materials on this site may not be reproduced, distributed, transmitted, displayed, published or broadcast without the authorization from the Aju News Corporation.