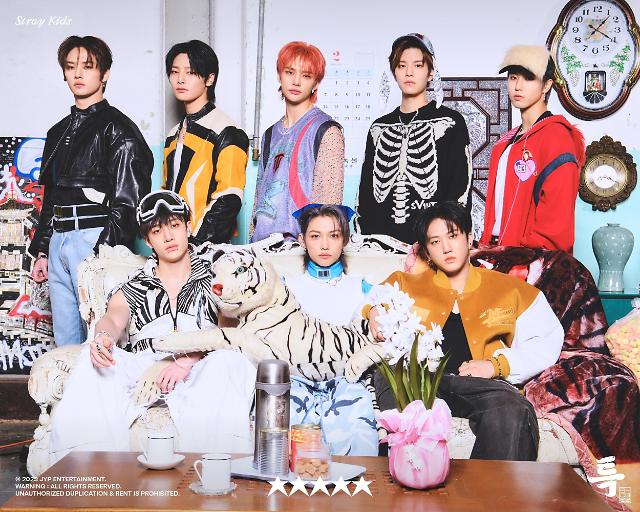 SEOUL -- Boy band Stray Kids ranked second in album sales in the United States, followed by Taylor Swift. The eight-member band has gained explosive popularity through "5-Star," an album released in June 2023, and Maxidient, an album rolled out in October 2022.

Through 5-Star, the group topped Billboard's top 200 popular albums chart in June this year. The music video of S-Class, the album's title track featuring hip-hop elements, has gained more than 117 million views on YouTube as of September 4. Along with BTS' album "Proof," Maxidient was one of the best-selling K-pop albums in 2022, exceeding 3 million copies.

According to data provided by U.S. music chart analysis provider Chart Data, Stray Kids took second place in album sales for the first eight months in the U.S. The boy group's 5-Star' was the fourth-most-selling album, followed by American Taylor Swift's "Midnights" and "Speak Now," and "Utopia" by American rapper Travis Scott. Maxidient ranked 10th in the album-selling chart. Chart Data has not disclosed the exact sales amount.

The boy group received enormous attention from global fans before its official debut as they were the final survivors of "Stray Kids," a survival audition show aired through TV music channel Mnet in 2017. It is the first boy band to be produced by Park Jin-young, the head of JYP, four years after GOT7, a seven-member dance group that debuted in 2014.

In July 2023, group members also interacted with fans in France through Lollapalooza, a popular global music event, as its headliner. In September this year, Stray Kids will participate in the MTV Video Music Awards set to take place in New Jersey. The group will also perform at Tokyo Dome, an indoor stadium regarded as the "dream stage" among Japanese artists, in October 2023.

© Aju Business Daily & www.ajunews.com Copyright: All materials on this site may not be reproduced, distributed, transmitted, displayed, published or broadcast without the authorization from the Aju News Corporation.