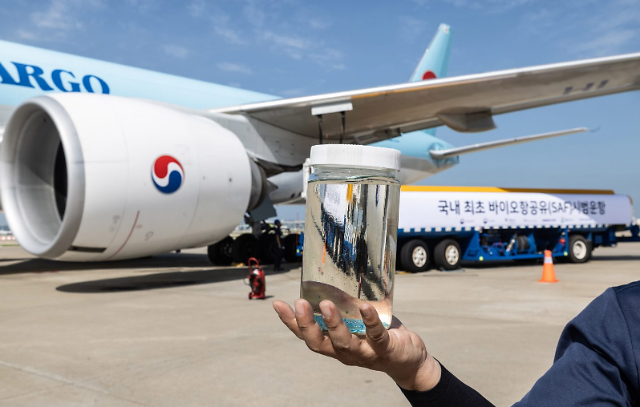 SEOUL -- Korean Air, South Korea's flag carrier, has started the demonstration of bio-aviation fuel provided by the country's major oil refiner GS Caltex. The first biofuel-based cargo flight took off from Incheon International Airport, South Korea's main gateway, and headed to Los Angeles. A total of six cargo flights will be tested for three months.

Biofuel is produced using plant-based or animal-based oil such as cooking oil from fast food restaurants or palm oil. Biodiesel, one of the most widely recognized biofuels, is normally made of hydrocarbon material extracted from biomass and diesel. Biofuels emit significantly less carbon dioxide compared to fossil fuels.

In the global aviation sector, various biofuel-related research has been carried out. The European Union (EU) has unveiled its plan to reduce the aviation industry's reliance on fossil fuels and promote the adoption of bio-aviation fuel, also known as sustainable aviation fuel (SAF). The EU has proposed a mandate requiring airlines to blend at least two percent of SAF with conventional jet fuel starting in 2025. Since 2021, France has mandated the use of at least one percent of SAF in aviation fuels.

"Korean Air's flight powered by our biofuel departed from Incheon yesterday," GS Caltex's spokesperson Cho Nam-wook told Aju Korea Daily on September 6. Cho did not disclose all fuel materials, but he said cooking oil and other waste materials were used for the plane that left for L.A. GS Caltex has earlier revealed that it would provide bio-aviation fuels produced by Neste, a leading biodiesel producer based in Finland.

To reduce carbon emissions, South Korea launched an alliance involving private companies and state bodies to accelerate the adoption of biofuel in June last year. In June 2023, Korean Air and GS Caltex agreed to collaborate to create infrastructure and environment for the rapid commercialization of SAF.

"GS Caltex will set up a bio jet fuel supply chain network while Korean Air carries out demonstrations to check and verify each company's roles and capabilities in the process of adoption," GS Caltex Vice President Kim Chang-soo said in a statement.

© Aju Business Daily & www.ajunews.com Copyright: All materials on this site may not be reproduced, distributed, transmitted, displayed, published or broadcast without the authorization from the Aju News Corporation.