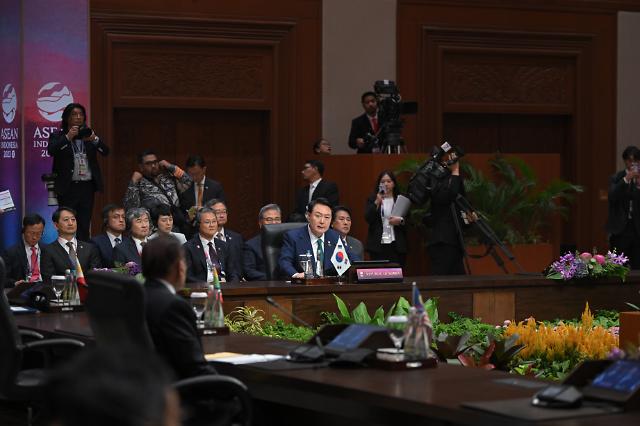 SEOUL -- South Korean President Yoon Suk-yeol has pledged to enhance partnership with the Association of Southeast Asian Nations at a summit meeting held in Jakarta. The statement was made during his journey to Indonesia for the ASEAN summit meeting. After attending a set of meetings in Indonesia, Yoon is set to move to India to take part in the G20 summit in New Delhi.

At the ASEAN summit meeting on September 6, the South Korean leader said his country would support the union of 10 Southeast Asian countries and explore new areas of cooperation based on its trilateral alliance with the United States and Japan. He said: "The three nations -- South Korea, the U.S., and Japan -- have decided to coordinate Indo-Pacific strategies based on their full support for the ASEAN-led regional structure and discover new areas of cooperation." In August 2023, Yoon agreed with leaders from the U.S. and Japan to upgrade the security alliance at the trilateral summit meeting held in Maryland.

The president also asked for the Southeast Asian countries to support South Korea to host the World Expo 2030 in the southern port city of Busan. "South Korea hopes to share the development experience with many maritime nations and many neighboring countries, including ASEAN, through the 2030 Busan World Expo," Yoon said, adding that he wants to provide a platform to find solutions to the challenges facing mankind.

He proposed to expand cooperation in the defense industry as well as cyber and maritime security. Yoon is scheduled to take part in the "ASEAN Plus Three (South Korea-China-Japan) Summit" as well as a gala luncheon session hosted by the Indonesian government. Through a roundtable meeting on September 7, he will interact with entrepreneurs from South Korea and Indonesia.

The South Korean leader will fly to New Delhi, India on September 8 to participate in the remaining schedules until September 10. First Lady Kim Geon-hee is currently accompanying her husband.

© Aju Business Daily & www.ajunews.com Copyright: All materials on this site may not be reproduced, distributed, transmitted, displayed, published or broadcast without the authorization from the Aju News Corporation.