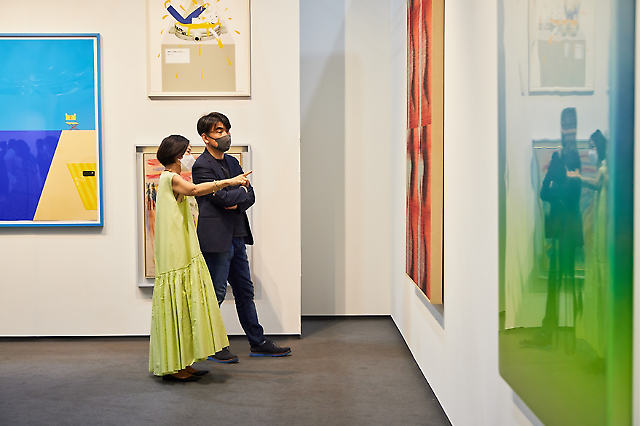 SEOUL -- Frieze, a major global art fair, has started at a convention center in Gangnam District, Seoul's heart of fashion and finance. Some 120 galleries from 30 countries including the United States, Britain, and South Korea are presenting various artworks at the four-day event.

The annual contemporary art event, run by a British art magazine publisher of the same name, is one of the largest art fairs along with Switzerland's Art Basel and France's Foire Internationale d'Art Contemporain. The Frieze event was held in South Korea for the first time in 2022, attracting more than 70,000 visitors.

Frieze Seoul 2023 started at a convention hall at COEX on September 6, the event operator said on Instagram. About 40 percent of this year's selected galleries are from Asia. Art lovers can enjoy many different artworks including work by Korean-American video artist Paik Nam-june and Philip Guston, a Canadian-American painter. Other famous galleries include Gagosian, Hauser & Wirth, Galerie Barton, White Cube, and David Zwirner.

A total of 26 South Korean galleries will be showcased during the event. The global art fair is taking place along with the Korean International Art Fair (Kiaf), a major South Korean art fair run by the Galleries Association of Korea. 210 galleries from 20 countries and regions are involved in the Kiaf at the COEX convention center.

Art curators from New Zealand have shown interest in the Frieze event in Seoul. On September 5, the New Zealand Embassy in South Korea hosted a reception at an art museum in the capital city, to connect New Zealand's art curators with South Korean experts involved in the art industry. Although there are no New Zealand galleries participating in this year's art fair, the embassy said eight curators are visiting Frieze Seoul to discover collaboration opportunities.

© Aju Business Daily & www.ajunews.com Copyright: All materials on this site may not be reproduced, distributed, transmitted, displayed, published or broadcast without the authorization from the Aju News Corporation.