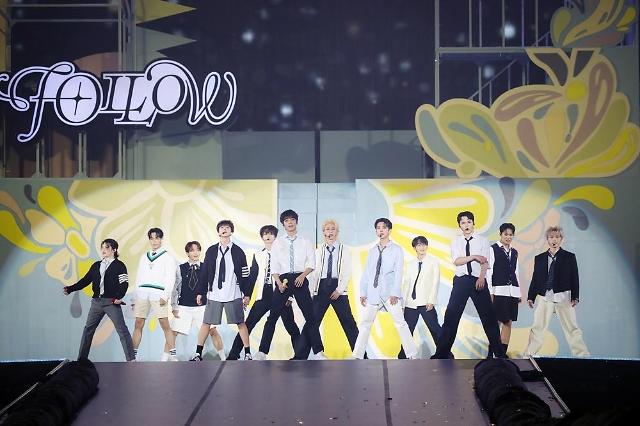 SEOUL -- Multinational K-pop boy band Seventeen has completed its concert at Tokyo Dome, an indoor stadium regarded as the "dream stage" among Japanese artists. About 100,000 audience attended the two-day event held at the stadium with a total capacity of around 50,000. The group will continue its Japan tour at four other domes in Saitama, Nagoya, Osaka, and Fukuoka.

The 13-member band debuted in May 2015 and won the "World Performer Award" at the 2016 Mnet Asian Music Awards (MAMA), an annual music festival in Hong Kong. Seventeen consists of three subgroups -- hip-hop, vocal, and performance. The group made its debut in Japan in May 2018 with its Japanese language album titled "We Make You."

The band has attracted 100,000 fans through the solo concert that started on September 6, the band's agency said. Group members showcased its hit songs such as "Super," the title track of its 10th mini album "FML." The music video of the dance song has gained more than 120 million views on YouTube after its release in April 2023.

Seungkwan, who had been on hiatus since August this year, also appeared in the concert. Without disclosing his disease, Pledis Entertainment said the 25-year-old had suffered from his health issues. The group member S.Coups is currently taking a hiatus due to a knee injury.

"We will continue to showcase great performances and fun memories," the group said, adding that they feel grateful to present performances at domes. Seventeen's second dome tour will take place in Saitama for two days starting on November 23. The dome tour will be continued until December.

© Aju Business Daily & www.ajunews.com Copyright: All materials on this site may not be reproduced, distributed, transmitted, displayed, published or broadcast without the authorization from the Aju News Corporation.