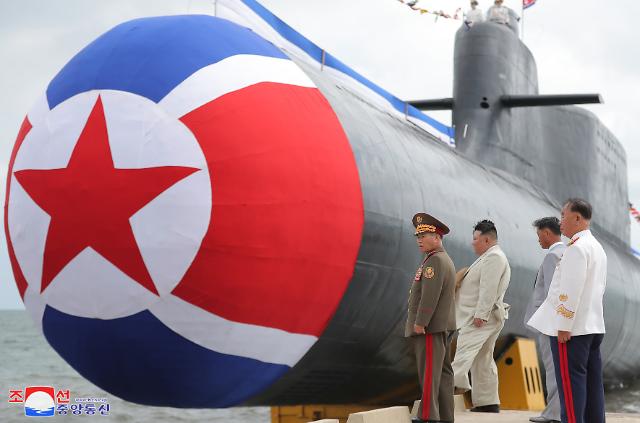 SEOUL -- North Korean leader Kim Jong-un attended a showcase event designed to present Pyongyang's newly-built nuclear attack submarine called "Hero Kim Kun Ok," North Korea's state-operated media agency said. The announcement was made a day before the 75th founding anniversary of North Korea, which is Pyongyang's largest holiday observed on September 9.

In 2023, Pyongyang tried to accelerate the growth of its military capabilities by showing off its technology and equipment. In May and August, North Korea made two attempts to fire a missile carrying a spy satellite into orbit in each attempt but failed when the projectiles crashed into the sea before they released satellites into space. Before each launch, Pyongyang said the spy satellites were designed to monitor the military activities of the United States and its allies.

North Korea also showed off its new arsenals through a parade during the "Day of Victory in the Great Fatherland Liberation," which celebrates the signing of the Korean Armistice Agreement that brought a cease-fire to the Korean War (1950~1953), on July 27. Pyongyang displayed new modern equipment including drones and missiles in the military parade attended by officials from China and Russia.

The Korean Central News Agency (KCNA) said on September 8 that a "Korean-style tactical nuclear attack submarine" was showcased, heralding "the beginning of a new chapter for bolstering up the naval force" of North Korea. The ceremony held on September 6 was attended by Kim and North Korean government officials.

According to images released by KCNA, the nuclear attack submarine, about the size of a 3,000-ton Romeo-class submarine, has six vertical launch tubes and four large-sized launch tubes. During the ceremony, KCNA reported that Kim stressed the need to enable the North Korean naval forces to fulfill their duty by accelerating the transfer of underwater and surface vessels equipped with nuclear weapons.

In March, Kim guided a simulated test of "Haeil-1," Pyongyang's secret underwater drone weapon that is capable of carrying a nuclear warhead to detonate near a fleet of warships or naval ports to create a radioactive tidal wave.

© Aju Business Daily & www.ajunews.com Copyright: All materials on this site may not be reproduced, distributed, transmitted, displayed, published or broadcast without the authorization from the Aju News Corporation.