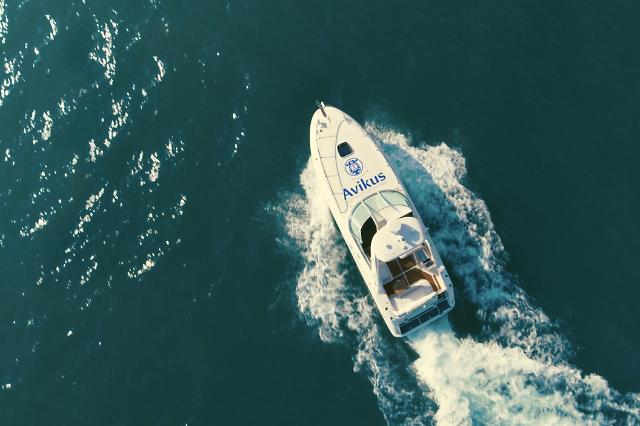 SEOUL -- Avikus, a South Korean self-sailing solution developer affiliated with Hyundai shipbuilding group, will showcase "NeuBoat Dock," an autonomous solution for recreational boats, at a major boat event in Cannes, France. The company has worked with Raymarine, a Britain-based marine electronic equipment maker, to develop the self-sailing solution.

According to market research firm Mordor Intelligence, the global recreational boating market which stood at $27.3 billion in 2021 is projected to reach $36.8 billion by 2027. Data released by HD Hyundai on September 10 showed that the number of leisure boats in the world reached 20 million and about 500,000 new recreational boats are being built every year.

HD Hyundai said in a statement that the company will participate in the Cannes Yachting Festival with NeuBoat Dock starting on September 12. The autonomous system, equipped with six cameras, provides various functions such as autonomous navigation and a docking assistant system. NeuBoat Dock be installed on three leisure boats at the six-day event to present its functions.

A total of 610 companies from all around the world will take part in the event. HD Hyundai expects more than 54,000 spectators to attend the boat show. "Starting with the official launch of the NewBoat Dock, we will lead the self-sailing technology in the recreational boat market beyond the large merchant ships that we have been focusing on," Avikus CEO Lim Do-hyeong said in a statement.

Domestic shipbuilders are striving to develop self-sailing ships that use a computer on board to control the route, speed, fuel consumption, and maintenance. In 2020, Avikus commercialized HiNAS, an advanced voyage support system that automatically recognizes surrounding vessels through camera analysis. HiNAS alerts the risk of collision based on augmented reality.

© Aju Business Daily & www.ajunews.com Copyright: All materials on this site may not be reproduced, distributed, transmitted, displayed, published or broadcast without the authorization from the Aju News Corporation.