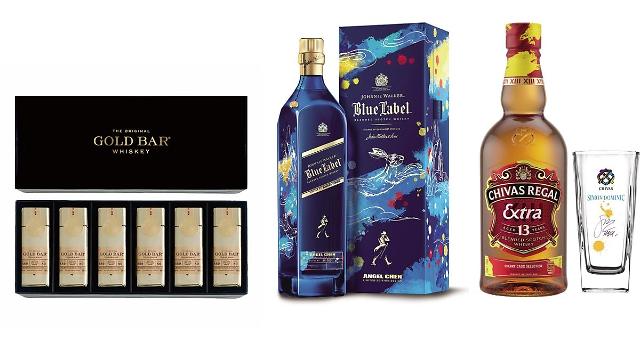 SEOUL -- Emart, the megastore franchise wing of South Korea's retail giant Shinsegae, has prepared various whisky gift sets to attract customers who are looking for ideal autumn harvest festival gifts for their family members or loved ones.

Chuseok, regarded as the largest traditional festival holiday of Koreans, is a three-day autumn harvest festival celebrated on August 15 of the lunar calendar. Normally, families would gather at the eldest member's home to share gifts and food. Many non-Christian families hold a Confucian ritual in which food menus cooked with newly harvested rice and vegetables are put on a large table for deceased ancestors.

The Chuseok season is also the time of people moving from big cities to their hometowns. According to pollster Gallup Korea, about 44 percent of South Koreans visited their hometowns for at least a day during the autumn festivities in 2006 but the rate of homecoming people dropped to 35 percent in 2022, just after the South Korean government lifted all social distancing regulations regarding the COVID-19 pandemic.

Whisky, which has become the favorite liquor among the South Korean millennial generation, is also popular as a Chuseok gift, data released by Emart showed. Sales of whisky Chuseok gift sets increased by 39.5 percent in 2021 compared to the same period a year ago. The sales rate of whisky gift packages has increased to about 90 percent of wine gift sets, which is one of the top-most selling gift sets for Chuseok.

To attract more customers who wish to present high-quality gifts to their loved ones, Emart said that the megastore franchise will receive online pre-orders for whisky gift sets for the first time. Previously, the megastore operator only sold whisky via its offline outlets.

"We are receiving positive customer feedback for the online pre-orders for whisky gift sets. We are planning to diversify our whisky lineups and expand the distribution volume to meet the market demand," an Emart official said in a statement on September 11.

© Aju Business Daily & www.ajunews.com Copyright: All materials on this site may not be reproduced, distributed, transmitted, displayed, published or broadcast without the authorization from the Aju News Corporation.