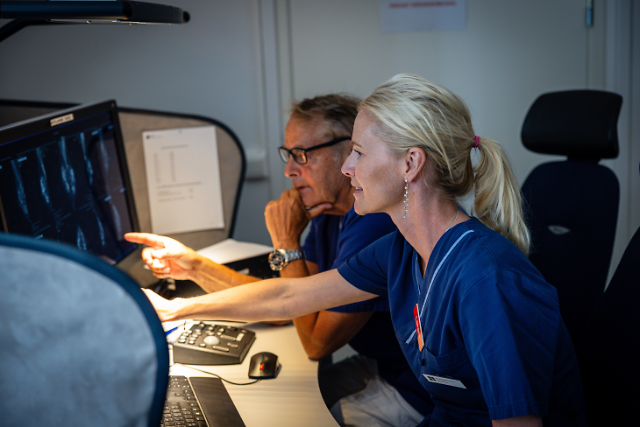 SEOUL -- A study showing the efficacy of a breast cancer analysis solution created by South Korea's medical artificial intelligence company Lunit was published in a global peer-reviewed journal. According to the research, the diagnosis accuracy becomes higher when human doctors perform tasks with Lunit's AI solution than when only two human experts identify the disease. The adoption of the system called "Lunit INSIGHT MMG" can improve work efficiency by replacing humans who are prone to making mistakes.

The AI solution compares and analyzes X-rays and medical images of breast cancer patients and healthy people. Lunit INSIGHT MMG informs human supervisors whether patients should take extra tests. It was supplied to many countries including Taiwan, Sweden, and Saudi Arabia.

A research team led by Fredrik Strand, a radiologist at the Karolinska Institutet in Sweden, tested Lunit INSIGHT MMG's performance through three situations -- two human radiologists reading images, the analysis solution and one human radiologist, and only Lunit's smart solution -- and compared the test results. The test was carried out from April 2021 to June 2022 and 55,579 Swedish women participated.

It turned out that when the AI solution worked with a human doctor, the cancer detection rate (CDR) was 4.3 per 1,000 people who received breast cancer screening while the CDR by two human workers was 4.1. The detection rate was 4.1 when the AI solution performed the task alone.

The test result was published in the global academic journal "The Lancet Digital Health," Lunit said on September 11. "This is the research laying the foundation for the adoption of AI in breast cancer screening as well as proving that AI can take over the role of one doctor," Strand was quoted as saying.

According to data released by global market research firm MarketsandMarkets Research, the global diagnostic imaging market is expected to reach $35 billion by 2026. In August 2023, Lunit unveiled its plan to make a foray into the AI-based medical big data platform market. The company will integrate and manage various health data from medical facilities across the world to improve the diagnosis accuracy of all kinds of cancer and the prediction of treatment outcomes.


© Aju Business Daily & www.ajunews.com Copyright: All materials on this site may not be reproduced, distributed, transmitted, displayed, published or broadcast without the authorization from the Aju News Corporation.