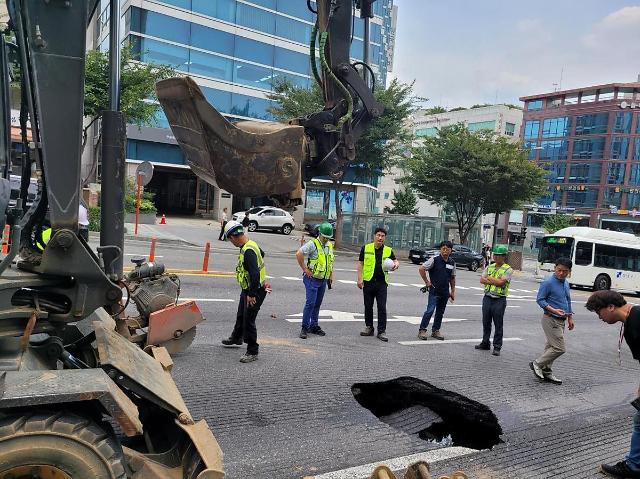 SEOUL -- Seoul City has blocked off a four-lane road in Gangnam, a southern district famous for rapper Psy's global hit song "Gangnam Style", to stop the road traffic while workers fix a sinkhole that is about one meter (3.2 feet) in diameter and 1.5 meters deep. The sinkhole appeared when a ladder truck's wheel sunk into the ground.

The rare phenomenon took place in Seoul's most technologically advanced area due to a nearby ruptured water pipe, police said, adding that construction workers started an operation to dig up the broken pipe and replace it with a new one. The roadblock caused a huge traffic jam around noon (0300 GMT) on September 12 in the business district with cars moving at an average of some four kilometers (2.4 miles) per hour.

Gangnam area was rural farmland until the late 1960s before it became Seoul's heart of finance and fashion trends, thanks to the rapid development of the city area including the construction of the Hannam Bridge over the Han River. Han flows across Seoul from the east into the West Sea and currently has 22 bridges that interconnect the northern and southern city parts.

Before the area was developed into a high-tech city landscape, the hilly area was prone to flooding, making it difficult for people to live there. Gangnam's drainage system, which barely copes with pumping water from the streets during huge rains, has been a constant problem.

The Gangnam District Office said that Gangnam will not experience any water cuts because many of the buildings in the area have their own water reservoirs that collect tap water. "We will fix the water pipe first before we reconstruct the road. It will take a significant amount of time until we fully repair the street," a Gangnam District official said in a statement on September 12.

© Aju Business Daily & www.ajunews.com Copyright: All materials on this site may not be reproduced, distributed, transmitted, displayed, published or broadcast without the authorization from the Aju News Corporation.