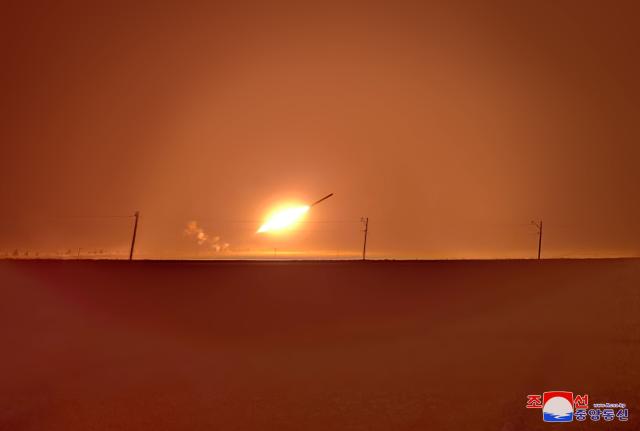 SEOUL -- Ahead of North Korean leader Kim Jong-un's summit meeting with Russian President Vladimir Putin, North Korea fired two short-range ballistic missiles into the East Sea. This is the first time that Pyongyang has fired a ballistic missile when the leader is abroad.

The South Korean Joint Chief of Staff (JCS) detected two short-range ballistic missiles (SRBMs) that were fired from near Sunan District in northwestern Pyongyang, from around 11:43 p.m. (1443 GMT) to 11: 53 p.m. on September 13. Two ballistic missiles flew some 650 kilometers (403 miles) before they fell into the East Sea.

The SRBMs were launched about two weeks after the North's missile launch on August 30. The JCS said that South Korea's intelligence agency is cooperating with its U.S. counterpart to analyze detailed information about the projectiles. After the missile launch, South Korea's presidential office launched a security inspection meeting.

Russia's state-operated media TASS reported that the North Korean leader met with Putin at around 1:10 p.m. at the Vostochny Cosmodrome space center in Russia's far-eastern Amur region. The two leaders have embarked on their summit schedule. Prior to the summit meeting, the Russian president mentioned that Kim is interested in Russia's space rockets and North Korea is currently trying to develop its space technology. Putin said he would show "new products" to Kim.

In July 2023, Pyongyang invited Russian and Chinese military officials to celebrate the 70th anniversary of the end of the Korean War (1950~1953). Including Kim, high military officials attended an extravagant military parade in Pyongyang where North Korea showed off its old and new arsenals of missiles, artillery, drones, and other military equipment.

© Aju Business Daily & www.ajunews.com Copyright: All materials on this site may not be reproduced, distributed, transmitted, displayed, published or broadcast without the authorization from the Aju News Corporation.