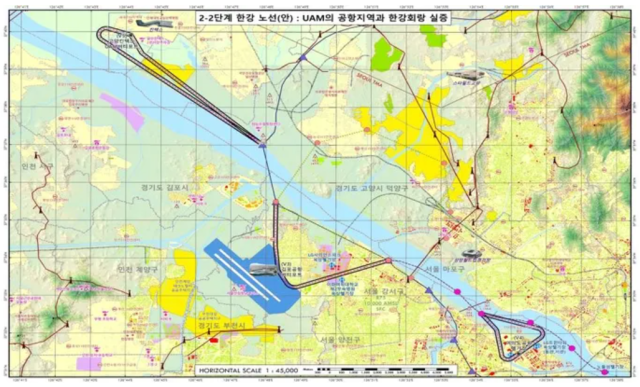 SEOUL -- South Korea's transport ministry will provide maps for urban air mobility, an ecosystem involving flying passenger vehicles in urban areas, to related organizations including the defense ministry, local city governments, and a private drone association. The map contains information on flight restrictions, prohibited airspace, and obstacles such as high-voltage lines.

Urban air mobility (UAM) infrastructure includes vertiports and a control system. Aerial vehicles are required to fly through corridors to prevent accidents and improve the safety of pedestrians on the land. Vertiports will be placed on safe places like rooftops.

Through UAM Team Korea, a public-private consultative body, South Korea aims to commercialize manned drone taxis in 2025. Remote-controlled vehicles will be adopted in 2030 and a fully autonomous service in 2035. A safety manager will board each flying vehicle until pilots are no longer needed.

The Ministry of Land, Infrastructure and Transport said 300 air mobility maps will be distributed to UAM-related agencies. The front of the map shows the entire UAM demonstration route consisting of seven vertiports in Seoul and its surrounding cities, and the back contains an enlarged map of three routes -- the Ara Canal, Han River, and Tancheon -- so that detailed routes can be seen.

After verifying the UAM technology in suburban and rural regions, the ministry will begin the second stage of demonstration in urban areas starting in July 2024. The second stage of the demonstration will take place in Seoul and its surrounding cities while the first stage is currently being carried out in Goheung some 330 kilometers south of Seoul.

"We will cooperate with private and public groups so that the UAM maps can be utilized in our demonstration," the ministry's airport transport bureau head Kim Sang-soo said in a statement on September 13.

© Aju Business Daily & www.ajunews.com Copyright: All materials on this site may not be reproduced, distributed, transmitted, displayed, published or broadcast without the authorization from the Aju News Corporation.