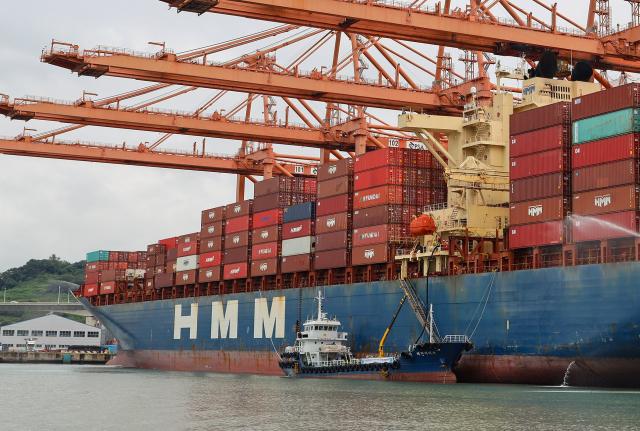 SEOUL -- HMM, the world's eighth-largest marine shipping company controlled by creditors in South Korea, will demonstrate the country's first biofuel-based container ship powered by GS Caltex, a main domestic oil refiner. After departing from South Korea's southern port city of Busan, HMM's ship will head to Brazil.

Biofuel is produced using plant-based or animal-based oil such as cooking oil from fast food restaurants or palm oil. Biodiesel, one of the most widely recognized biofuels, is normally made of hydrocarbon material extracted from biomass and diesel. Biofuels emit significantly less carbon dioxide compared to fossil fuels.

GS Caltex has supplied biofuel to HMM's container ship "HMM TACOMA," the shipping company said. The container ship will leave for Brazil on September 15. "We became the first South Korean oil refiner to demonstrate the container ship using biofuel," said GS Caltex's executive vice president Lee Seoung-hoon. According to Lee, the refiner will also provide its biofuel for foreign shipping companies that refuel vessels on South Korean territorial waters.

HMM aims to gradually increase the annual use of biofuel for vessels to about five to 10 percent of the total fuel. The company partnered with GS Caltex to carry out a bio-marine fuel project with GS Caltex in April 2023.

GS Caltex has also started the demonstration of bio-aviation fuel with Korean Air, South Korea's flag carrier. The first biofuel-based cargo flight took off from South Korea's Incheon International Airport on September 5 and safely arrived in Los Angeles. GS Caltex said its cooking oil was used for the aircraft. Five more six cargo flights will be tested using bio-aviation fuel.

© Aju Business Daily & www.ajunews.com Copyright: All materials on this site may not be reproduced, distributed, transmitted, displayed, published or broadcast without the authorization from the Aju News Corporation.