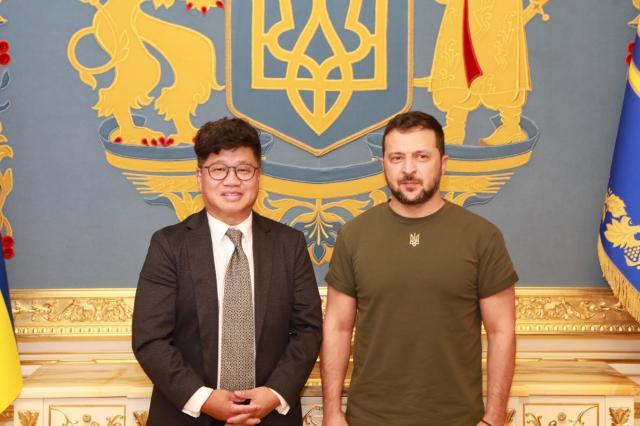 SEOUL -- South Korea's major logistics company CJ Logistics has partnered with JJ Group, an investment firm in Ukraine, to build an inland container depot with a total capacity of five million tons of cargo in Ukraine's northwestern city of Lutsk. The facility will be used to supply food resources such as grain and cooking oil to Ukrainians.

Inland container depots, also known as dry ports, are mainly located in industrial zones that connect ports and inland transportation such as railroads. Various types of cargo, including containers, are stored and managed at the facilities. Lutsk, located on the Styr River, is regarded as a hub for railroad and other ground transportation.

CJ Logistics said in a statement on September 17 that the company agreed to build a dry port in Lutsk with JJ Group. "We will try our best to restore the logistics infrastructure which is essential for bringing stability to Ukrainians' lives and improving their economic situation," said CJ Logistics CEO Kang Byoung-ku. CJ Logistics will later discuss with Ukraine's post office operators to provide South Korean beauty and fashion items.

The partnership was made during Kang's two-day visit to Kyiv on September 13 and 14 with other South Korean organizations involved in a reconstruction project in Ukraine. The entrepreneur has met with Ukrainian President Volodymyr Zelenskyy at a forum designed to rebuild Ukraine's transportation and water supply infrastructure.

K-water, a state water resource development and management agency in South Korea, is working with Ukrhydroenergo, a Ukrainian firm in charge of the operation of hydroelectric dams, for a reconstruction project for the Kakhovka Dam. The destruction of the dam located in the southern region took the lives of more than 100 people as of June 29.

© Aju Business Daily & www.ajunews.com Copyright: All materials on this site may not be reproduced, distributed, transmitted, displayed, published or broadcast without the authorization from the Aju News Corporation.