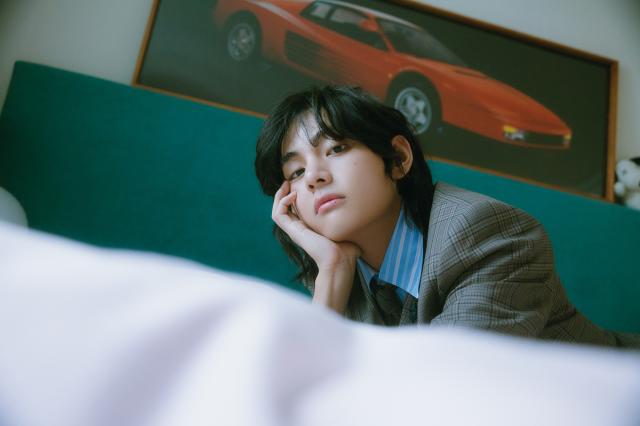 SEOUL -- "Layover," the first solo album released by BTS member V on September 8, has earned some 100,000 equivalent album sales in the United States during the first week of release. The album launched at No. 2 on the Billboard 200, the weekly chart that ranks the most popular albums in the U.S.

Layover is a rhythm and blues (R&B)-themed piece containing six songs. The 27-year-old BTS member pre-released songs -- "Rainy Days" and "Love Me Again" -- about a month before the release of his album. The teaser video for Layover's title song "Slow Dancing" was released via YouTube at about midnight (1500 GMT) on September 8 and it was watched more than 1.2 million times in less than 12 hours.

According to prominent American music magazine Billboard, V put his album Layover in second place on the Billboard 200 for the week ending on September 14. The music magazine analyzed that the album, released in 13 collectible CD iterations including randomized branded merchandizes, helped boost its sales by attracting fans and collectors to buy more album copies. The albums were sold through Weverse, an online music community platform operated by BTS' agency Hybe, and retailers such as Barnes & Noble, Target, and Walmart.

The No. 1 place on Billboard 200 was taken by American singer-songwriter Olivia Rodrigo's sophomore album "Guts." This was the second time the 20-year-old singer put her album on the Billboard 200 following "Sour," her debut album released in 2021.

© Aju Business Daily & www.ajunews.com Copyright: All materials on this site may not be reproduced, distributed, transmitted, displayed, published or broadcast without the authorization from the Aju News Corporation.