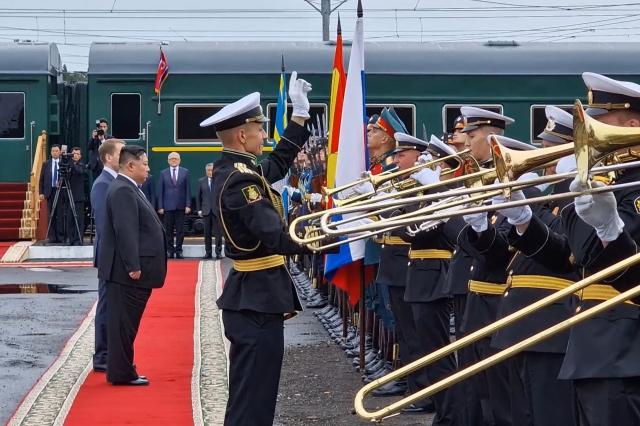 SEOUL -- North Korean leader Kim Jong-un has returned home five days after he met his Russian counterpart President Vladimir Putin on September 13, Pyongyang's state media reported. The two leaders discussed cooperation in various sectors including the sharing of know-how of Russia's advanced space technology.

The Korean Central News Agency reported on September 19 that Kim passed through the Tumangang Railway Station located at the northern border of North Korea on September 18. The North Korean leader left for Russia's far eastern area of Amur Oblast on board his iconic green armored train.

Kim, who rarely travels to overseas countries, used the same green train to travel some 4,000 kilometers (2,485 miles) to travel to Viet Nam for a second summit with the former United States President Donald Trump in 2019. The luxurious, bulletproof train trudged through North Korea and China to reach Viet Nam's Dang Dong for more than two and a half days. He moved to Hanoi by car.

Kim and Putin met at the Vostochny Cosmodrome, a Russian spaceport located in the area of Amur Oblast, for a series of summit meetings. The meeting between leaders from Pyongyang and the Kremlin occurred for the first time in four years and five months. Putin told a local broadcaster that Russia would help North Korea develop new satellites, adding that the United Nation's sanctions on Pyongyang will not interrupt the relationship between the two countries.

The meeting at Russia's iconic spaceport and Putin's comments about Kremlin helping Pyongyang develop new satellites follows North Korea's series of failed attempts at sending its homemade spy satellites into orbit. North Korea tried twice this year but failed after malfunctioning carrier rockets crashed into the West Sea, also known as the Yellow Sea. Before launching its new satellites, North Korea stressed the importance of a strategic reconnaissance satellite capable of monitoring the military activities of the U.S. and its allies through the country's state-operated news agency.

Although not much information was disclosed after the summit meeting, Russia's state media TASS reported that Kim said North Korea and Russia touched upon "the military-political situation on the Korean Peninsula and in Europe." Citing the Kremlin's spokesperson Dmitry Peskov, TASS said that no documents were expected to be signed after the summit talks.



© Aju Business Daily & www.ajunews.com Copyright: All materials on this site may not be reproduced, distributed, transmitted, displayed, published or broadcast without the authorization from the Aju News Corporation.