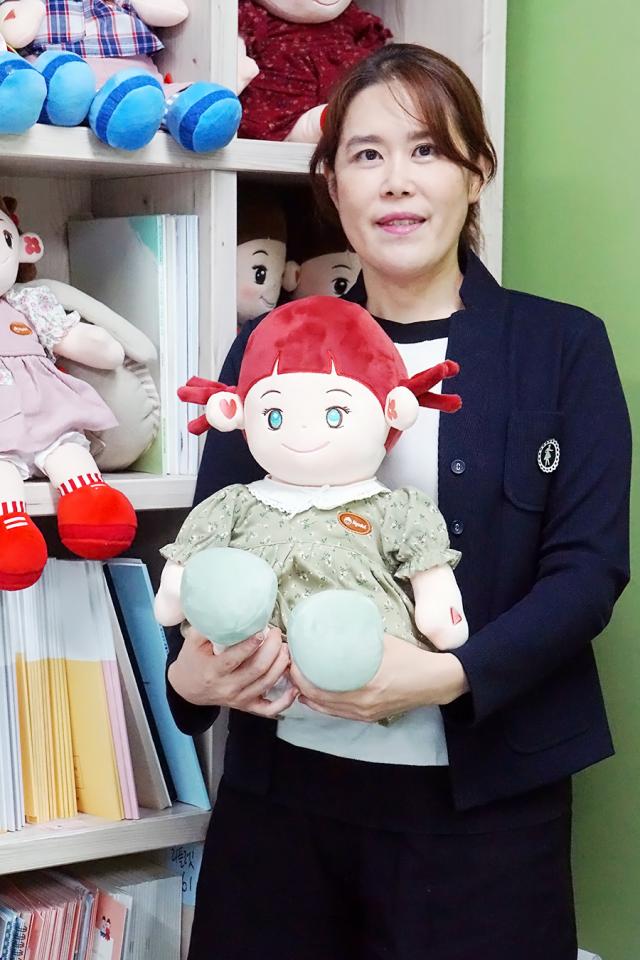 SEOUL -- An 84-year-old woman rocks her body from side to side while listening to a South Korean song "A Girl from Casba," sung by a robot caretaker. "What kind of a grandchild would entertain me like this one," the South Korean woman living in New York said with a huge smile on her face after singing along to the old Korean pop music.

The doll-like robot spoke to Kang Deung-ja as a granddaughter would do to her grandmother. "Hyodol," the caretaker robot, can notify elderlies on a regular basis to take medication, go for a walk, and do some exercises such as stretching. Hyodol would suddenly engage in a quick quiz game with its grandma or grandpa to help stimulate their memory ability. The robot can also detect the movements of nearby objects. When Hyodol does not detect any movement for 24 hours, it would notify the Hyodol control tower for help.

"Thank you for your reminder Hyodol! You always take care of me even when I forget to take my medicine," Jang Kyung-ok, a 78-year-old woman spoke to her robot. Jang enjoys spending time with the caretaker robot as she lives alone in New York.

Hyodol was created by South Korea's AI care robot developer of the same name. As of July 23, about 7,000 elderly people in South Korea have formed companionship with Hyodol. Equipped with various sensors, the robot starts talking when a human touches its body. The robot is capable of speaking in five different Korean dialects.

Demands for AI companion robots are increasing among elderly people who live alone in South Korea. According to data released by the national statistical information service, the number of single households reached 7.16 million in 2021, accounting for 33.4 percent of total households. About 34.5 percent of single households were people aged 60 or older. With this single household population becoming more isolated, the number of lonely deaths soared to 3,378 in 2021 from 2,412 in 2017.

"The average age of Hyodol users is 82," Hyodol CEO Kim Ji-hee told Aju Korea Daily on September 1. Hyodol robots equipped with an LTE module can ask how their human companions are doing. If an abnormal reaction is detected or there is no response, human caregivers are notified so that they can eye-check the elderly. Kim said the robot can be helpful in avoiding lonely death for her consumers who are mostly unemployed.

The entrepreneur became interested in care products for older people while working at LG Electronics' research institute designed to discover consumer needs and develop optimized product concepts. "I don't want older people to feel frustrated. If you don't want to become miserable, you should be able to take care of themselves. It's not just about money, right? You have to be healthy, be mentally happy, and be able to manage yourself," she said.

"Our robot was also used to treat a patient with dementia at the Kangwon National University (KNU) Hospital," the Hyodol CEO added. A study by KNU's medical professor Jo Heui-suk showed that the burden of dementia patients' guardians was reduced when Hyodols were adopted. The six-week research, published in May 2022, involved 27 caregivers under the age of 60.

In June 2022, Hyodol's robots were distributed to help residents with mild dementia symptoms at a public health center in Yeoncheon some 59.5 kilometers (37 miles) north of Seoul. They were provided to 15 selected residents in Cheongsong, a rapidly aging rural region in the eastern province, in August 2023. A total of 137 local governments have also adopted Hyodol robots.

Kim aims to captivate foreign consumers through different Hyodol robots that can speak various languages. "As our CEO always hoped to target the global market, we already made the English, Mandarin, and Japanese versions," said Lee Ye-seul, the company's overseas marketing head. "This year, I think we will start working on the Dutch version."

During the interview, Kim said she has strived to develop a robot that can choose appropriate words to fit each culture. "Unlike the Korean version that attempts to make small talk by asking old people a question like "Grandpa, I want to eat sweet potatoes," we will have to find some other food items in Dutch or Spanish. I think it's going to be a big project."

"If Hyodols could read verses from the Quran, the religious text of Islam, I think old people in Muslim countries would love it," Kim revealed her ambitious plan, saying that she hopes to collaborate with more foreign companies.

Hyodol would later create a robot capable of engaging in two-way communication by incorporating Microsoft's clouding platform "Azure." "Currently, our robots can ask a question and make small talk with humans but they are unable to understand what humans say," Lee said, adding that the company will release an upgraded version that can respond to humans using a large language model (LLM) like ChatGPT.

The company hopes to continue working with the global tech firm to provide more personalized healthcare services. "We hope to launch the service in various countries including European nations, Japan, and China based on Hyodol which completed the product demonstration in the U.S. The development of a multi-language model and securing the cloud service is essential."

Other South Korean companies are also trying hard to provide care services for older people. The country has adopted different technologies such as internet of things (IoT) sensors that can detect temperature, humidity, and body movements in real time. In June 2021, KT, the biggest telecom company in South Korea, provided AI speakers and IoT sensors to 100 single households in Gwangju some 268 kilometers south of Seoul. As of March 2020, Seoul has deployed 75,000 IoT sensors to elderly single-household homes.

© Aju Business Daily & www.ajunews.com Copyright: All materials on this site may not be reproduced, distributed, transmitted, displayed, published or broadcast without the authorization from the Aju News Corporation.