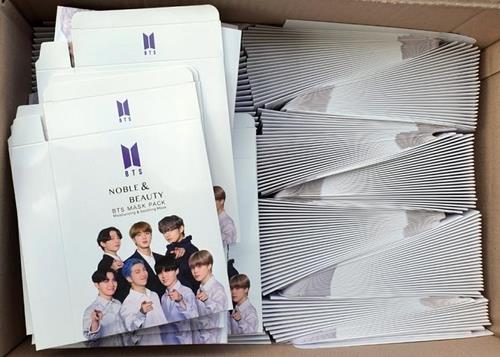 SEOUL -- Hybe, the agency of BTS, has delivered an appreciation plaque to South Korea's customs office as a sign of gratitude for stopping the distribution of fake BTS mask packs worth some 625 billion won ($46.7 million) to the global market.

South Korean face mask packs are popular among global female consumers for their quality and good price. According to Statista, a global market research firm, about $4.7 billion worth of South Korean cosmetics products were exported in 2021. Mask pack makers sometimes collaborate with popular K-pop artists to release limited-edition products to attract global K-pop fans.

The Incheon Regional Customs based in the western port city of Incheon said that the customs office received an appreciation plaque from Hybe after cracking down on an illegal smuggling operation earlier this year. Three people were booked and investigated for producing 110,000 units of mask packs using BTS' intellectual property (IP) and distributing the fake items in the domestic and global markets.

Through raids, the regional customs office found that the suspects planned to produce 250 million extra units of fake BTS mask packs worth some 625 billion won and globally distribute the illegal products. "We will continue to do our best to crack down on illegal violation of IPs that targets K-pop bands such as BTS," the Incheon Regional Customs said in a statement on September 22.

© Aju Business Daily & www.ajunews.com Copyright: All materials on this site may not be reproduced, distributed, transmitted, displayed, published or broadcast without the authorization from the Aju News Corporation.