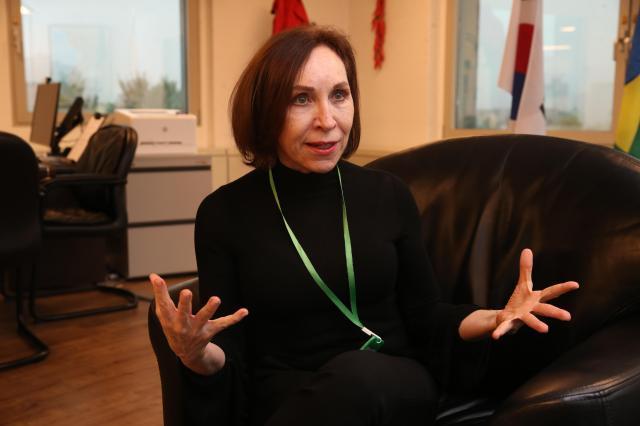 SEOUL -- Brazil is ready to strengthen science and technology cooperation with South Korea and achieve remarkable advancements in various sectors including green energy, engineering, and pharmaceuticals. During the 64 years of diplomatic relations, South Korea has mainly exported manufacturing products such as car parts and imported Brazil's raw materials including oil, ethanol, and soybeans.

Data released by Brazil's finance ministry showed that Brazil's trade volume with South Korea reached $11.7 billion in 2022, up 31 percent from 2018. While Brazil's primary export items include agricultural products, minerals, and ethanol, its main import products are electronics, auto parts, and medical devices. Major South Korean conglomerates, including Samsung, Hyundai, LG, and CJ have made investments in Brazil. Brazilian Ambassador to South Korea Marcia Donner Abreu said South Korea's investment in Brazil was focused on the manufacturing industry.

The veteran diplomat hopes more large-scale family-run business groups in South Korea, known as chaebols, to make a foray into the South American country. During the interview with Aju Korea Daily on September 20, she emphasized that her nation was the first Latin American country to establish diplomatic ties with South Korea in 1959. According to the ambassador, South Korea was Brazil's 11th largest trade partner in 2022.

Abreu said that Brazil's main export item to South Korea is oil, accounting for nearly 25 percent of the total export amount. Iron is another major Brazilian export to South Korea, with Vale S.A., a major iron ore miner in Brazil, playing a prominent role in the trade. To reduce carbon emissions, South Korea's steel group, POSCO, partnered with Vale for the production of low-carbon hot briquetted irons (HBIs), which is a compacted form of direct reduced iron, in August 2022. HBI produces steel products after making reduced iron without carbon dioxide emissions by using hydrogen as a deoxidizing agent.

The Brazilian envoy thinks green hydrogen and eco-friendly energy is another promising area in which the two countries can cooperate. She said: "We have the cleanest energy mix of any major: economy: 92 percent of our electricity and 48 percent of all of our energy comes from renewable sources." Brazil has been also a pioneer in the use of ethanol as a sustainable alternative fuel. The country's successful ethanol project began in 1979, leading to the widespread adoption of flex-fuel vehicles.

Flex-fuel vehicles in Brazil are designed to run on a blend of ethanol and gasoline, offering consumers the flexibility to choose between the two fuels or any mixture in between. In Brazil, at least 20 percent of ethanol should be used for all vehicles. Abreu said Brazil aims to expand the flex-fuel concept to include ethanol-electric hybrids in collaboration with automakers like Volkswagen and Nissan.

She encouraged more South Korean chipmakers to expand their business scopes into Brazil. "HT Micron is currently the only South Korean semiconductor manufacturer operating in Brazil." HT Micron is a Brazilian subsidiary of Hana Micron, a South Korea-based company specializing in semiconductor packaging.

Abreu highlighted South Korea's rapid advancement in science and technology fields. "If I were a Brazilian student, I would come here to study STEM (specializing in science, technology, and mathematics)," the envoy said, adding that she aims to build a stronger partnership in the science and technology fields. "South Korea's leapfrog in science and technology is the result of a very strategic well-coordinated public policy over many decades. I think this is something that Brazil has to learn." Although Brazil has accomplished remarkable growth in the agriculture and aviation sectors, she thinks learning South Korea's approach is necessary in other fields.

In a bid to promote cooperation on biotechnology, the Brazilian Embassy plans to host a seminar in Seoul on October 18. Researchers from the two countries will take part in the event to discuss opportunities in public health and share know-how in vaccines.

Despite the two nations' geographical distance, Brazilians are showing interest in Korean culture including TV shows and food. "South Korea is becoming more and more popular. In Brazil, everybody asks me about K-dramas. Korean food is also becoming famous," the envoy said. According to the ambassador, the most popular K-food in Brazil includes Bibimbap, a traditional Korean rice dish with pre-cooked herbs and meat, kimchi, a traditional Korean fermented vegetable dish, and Japchae, a stir-fried noodle dish with beef and various vegetables.

Abreu pointed out the opportunity for collaboration in the fashion industry, citing a South Korean fashion brand "Dint." She hopes to meet a designer of the brand and explore collaboration opportunities with Brazilian stylists.

© Aju Business Daily & www.ajunews.com Copyright: All materials on this site may not be reproduced, distributed, transmitted, displayed, published or broadcast without the authorization from the Aju News Corporation.