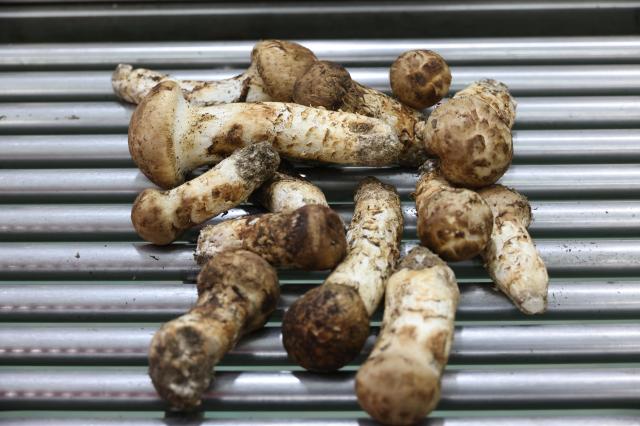 SEOUL -- Prices of Songyi mushrooms (pine matsutake) have soared to reach a record high of more than 1,550,000 won ($1,142) per kilogram (0.45 pounds) due to scarcity caused by climate change and abnormal weather conditions.

Songyi mushroom is one of South Korea's top autumn delicacies which is used for the preparation of menus served for "Charye," a traditional Confucian rite designed to offer food for deceased ancestors. The rare mushrooms are only found in pine forests located deep in the mountains. In late September and early October, a very small number of foraging teams are allowed to enter the mountains to pick the precious mushrooms.

In some regions such as the Gyeongsang Province, Songyi is the alpha and the omega of the Charye table. Some old people feel very uncomfortable if there is no Songyi served to their ancestors. Because of its high value, Songyi mushrooms can get very expensive during "Chuseok," the Korean traditional autumn harvest festival because of high demand.

According to the Yangyang-Sokcho Forestry Cooperative Federation based in the eastern county of Yangyang and Sokcho City, well-known for Songyi production, on September 28, a kilogram of Songyi was auctioned for 1,562,000 won on September 21, marking the record-high price

The forestry federation said the collection amount of Songyi used to be about 300 to 400 kilograms per day. However, only an average of some 100 kilograms were collected daily during the past week. "The temperature rises to up to 30 degrees Celsius during the day even though it is autumn right now," a forestry federation official said, adding that the high temperatures slow down the growth of the mushrooms.


© Aju Business Daily & www.ajunews.com Copyright: All materials on this site may not be reproduced, distributed, transmitted, displayed, published or broadcast without the authorization from the Aju News Corporation.