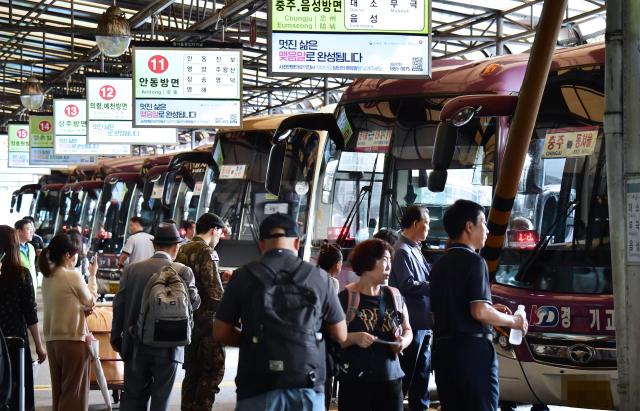 SEOUL -- Millions of South Koreans have traveled through highways, bus terminals, airports, and train stations to visit their hometowns and meet family members during a six-day "Chuseok," a traditional Korean autumn harvest festival holiday.

Chuseok and Seollal, the Lunar New Year Day in Korean, are the two major traditional three-day festival holidays Koreans celebrate. When the holidays are positioned just before or after a weekend, then the holiday can be extended to more than five days

The traditional seasonal holidays are the times when Koreans gather at their eldest family member's houses in their hometowns to participate in a Confucian rite called "Charye." Through the ritual based on Confucian beliefs, families make offerings to their deceased ancestors, requesting prosperity, good luck, and the well-being of their descendants.

Many families take the preparation of Charye very seriously. Wives of families would normally gather at the eldest family member's home a few days prior to Seollal or Chuseok to prepare dishes for the rite. Ordinarily, some dozen dishes will be put on the Charye table while some families will serve dozens of dishes.

When the rite is finished, family members sit around the Charye table and share the food offered to their ancestors Christian families do not hold Charye. Instead, they share a meal with their family. Because the traditional holidays are regarded as the time for meeting family members and friends, many people visit their hometowns.

Previously, the South Korean government predicted that a total of some 40 million people would travel during the Chuseok holiday season in 2023. It normally takes about five and a half hours to drive about 400 kilometers (248 miles) from Seoul to the southern port city of Busan. However, the country's expressway management corporation's data showed that it took about seven and a half hours to drive to the port city on September 28, the first day of the six-day Chuseok holiday season.

Police operated special undercover police cruisers disguised as ordinary vehicles to crack down on traffic law violators and reckless drivers. Helicopters and drones were also used for monitoring traffic on highways.

Terminals and train stations were also crowded to their limits. Bus and train tickets from Seoul to other cities were all sold out. Many people had to buy standing tickets to go home by train. Airports were also filled with people traveling to their hometowns and those who seek time of peace and quietness in overseas countries.


© Aju Business Daily & www.ajunews.com Copyright: All materials on this site may not be reproduced, distributed, transmitted, displayed, published or broadcast without the authorization from the Aju News Corporation.