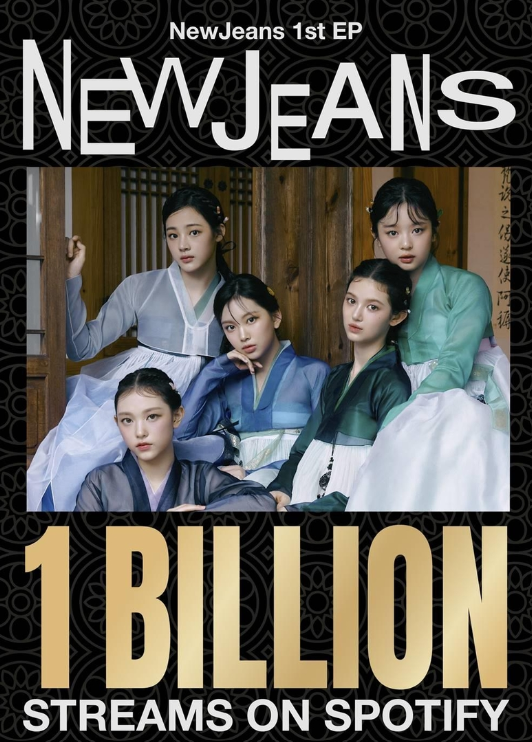 SEOUL -- Girl band NewJeans' debut album has gained explosive popularity on Spotify, the world's most popular music streaming service. The album's total streams surpassed one billion times 422 days after its release on August 1, 2022.

As of September 27, the album accumulated more than 1,000,760,129 streams on the streaming service. The album consists of four songs -- "Hype Boy," "Attention," "Cookie," and "Hurt." The band's agency said NewJeans is the first K-pop girl group that recorded one billion streams on Spotify with their debut album.

NewJeans has received immense attention for its unique dance performances and outstanding singing skills in different genres such as R&B, electropop, and hip hop. Attention entered Billboard's global chart just nine days after its release and the weekly top song USA chart on Spotify, less than 50 days after the band's debut. Hype Boy was also played more than 400 million on Spotify.

Group members are aged between 15 and 19. The 18-year-old member named Hanni is an Australian of Vietnamese descent. Danielle, an 18-year-old member with dual nationality -- South Korean and Australian -- was born to an Australian father and a South Korean mother.

The group was formed by ADOR under the command of Min Hee-jin, a genius idol incubator who planned concepts for SM Entertainment groups such as Girls' Generation, f(x), and Red Velvet.

© Aju Business Daily & www.ajunews.com Copyright: All materials on this site may not be reproduced, distributed, transmitted, displayed, published or broadcast without the authorization from the Aju News Corporation.