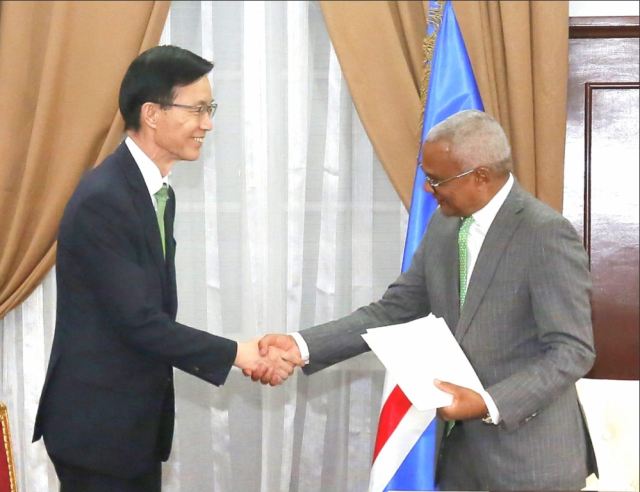 SEOUL -- South Korean Industry Minister Bang Moon-kyu has visited Cabo Verde to win support for South Korea's bid to host the 2030 World Expo in the southern port city of Busan. The minister also discussed with Cape Verdean President Jose Maria Pereira Neves to cooperate in various sectors including agriculture, trade, and energy infrastructure.

Despite the two nations' geographical distance, Bang visited the African country with a population of about 600,000 during a six-day "Chuseok," a traditional Korean autumn harvest festival holiday. The state visit was accompanied by about thirty South Koreans including officials from state-run companies such as trade promotion agency "KOTRA," and "KEPCO," a power company.

Bang handed South Korean President Yoon Suk-yeol's letter to President Neves, requesting Cabo Verde's support to host the World Expo in Busan, the Ministry of Trade, Industry and Energy said on September 30. Prior to his meeting with Neves, the South Korean minister discussed cooperation projects with Cabo Verde's finance minister. The two countries have agreed to work together in the fields of agricultural technology and exchange programs designed to improve economic cooperation.

The World Expo, held every five years for six months, can play a key role in showcasing South Korea's artificial intelligence, big data, and information communication technologies to the global market. The country is competing with Italy's Rome and Riyadh in Saudi Arabia to host the global economic event. In June 2023, Rapper Psy, known for his hit song "Gangnam Style," delivered a speech in Paris to support Busan's bid during the general assembly of an intergovernmental organization that oversees the World Expo.

© Aju Business Daily & www.ajunews.com Copyright: All materials on this site may not be reproduced, distributed, transmitted, displayed, published or broadcast without the authorization from the Aju News Corporation.