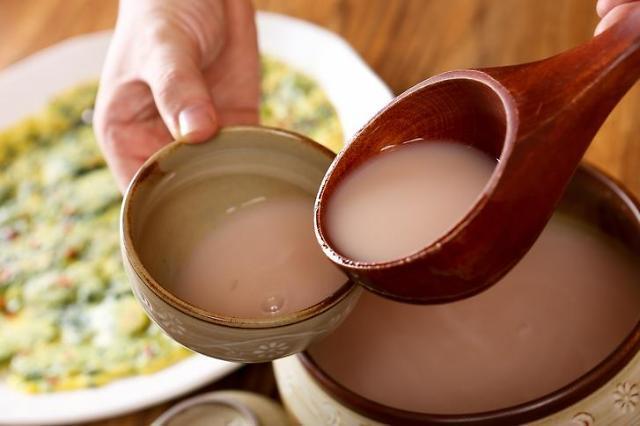 SEOUL -- Exports of traditional Korean rice beer Makgeolli in 2022 reached 15,396 tons in 2022, up 22.6 percent from two years ago, state data showed. Major Makgeolli importers were Japan, the United States, and China.

Makgeolli, also known as Korean rice wine or Korean rice beer, is a milky white-colored alcoholic beverage. The beverage normally made with rice contains about six to eight percent alcohol. Some brands are flavored with corn, chestnuts, and apples. The milky beverage was favored by middle-aged and older drinkers aged more than 40, but new Makgeolli products, carbonated or flavored with fruits, have been produced to attract young consumers.

According to data released by the state-operated Korea Agro-Fisheries & Food Trade Corporation, Makgeolli exports in 2022 reached 15,396 tons, up 22.6 percent 12,556 tons in 2020. In 2022, Japan was the largest importer with 8.140 tons, followed by the U.S. with 2,400 tons, and China with 1,439 tons. In 2021, a total of 14,643 tons of rice beer were exported.

Despite Makgeolli's increased export volume, the rice beer's export amount in 2022 was $15.68 million, down 0.5 percent year-on-year. The government agency said the decreased export amount was affected by the low exchange rate of the Japanese yen.

Domestic Makgeolli producers are striving to captivate foreign consumers. In May 2023, South Korea's Jipyeong Brewery has completed the construction of a factory with automated Makgeolli brewing facilities in the central city of Cheonan. The factory, capable of producing up to 30,000 bottles per hour, would be used to produce sterilized Makgeolli targeting global markets including the U.S., Europe, and Southeast Asia.

© Aju Business Daily & www.ajunews.com Copyright: All materials on this site may not be reproduced, distributed, transmitted, displayed, published or broadcast without the authorization from the Aju News Corporation.