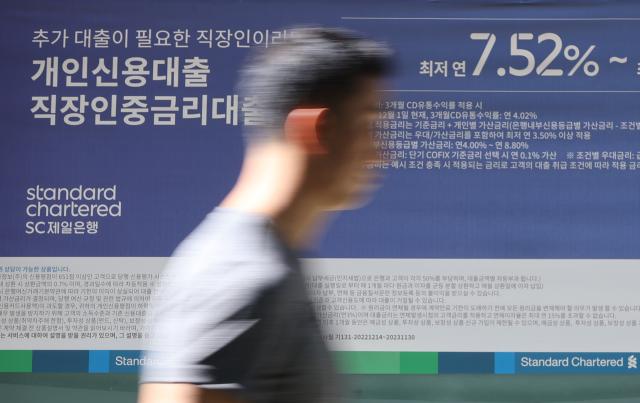 SEOUL -- Many South Korean self-employed individuals, who withstood the impacts of the COVID-19 pandemic and economic downturns through loans and government subsidies, are finding themselves in a position where they can no longer manage the principal and interest payments.

The COVID-19 pandemic which hit South Korea in early 2019 was like the death sentence for individual business operators, especially those who operate small stores, restaurants, bars, and coffee shops, after the country imposed strict social distancing guidelines that kept people off the streets after 9:00 p.m. and prohibited a group of more than four people dining at the same restaurant.

According to data released by the Korea Economic Research Institute, about 40.8 percent of self-employed individuals considered closing down their businesses during the pandemic. The closure rate of restaurants spiked in April 2021 to more than one thousand stores closing down monthly, up about 150 percent compared to other months. The spike in the number of closed businesses was induced by the government support program that provided subsidies for businesses closing down due to the pandemic.

While some self-employed individuals decided to close their businesses, others embarked on an arduous march while receiving life-supporting subsidies from the government and help from banks, savings banks, and other business cooperatives that offered loans with relatively low interest rates.

However, most of the financial and administrative support programs were terminated in early 2023 when the South Korean government lifted mandatory quarantine isolation procedures for COVID-19 patients and lowered the classification of the infectious disease from level two to level four. After the administrative and private support programs were terminated, and with the two-year payment deadline for COVID-19 loans just around the corner, self-employed individuals are finding it even harder to keep their businesses.

According to data released by the Bank of Korea, the country's central bank, the total amount of loans of self-employed individuals reached a record-high of 1,043.2 trillion won ($766 billion) by the end of the second quarter of 2023. The total loan balance has exceeded one thousand trillion won for four quarters since the third quarter of 2022. The total outstanding debt of self-employed individuals increased to reach 7.3 trillion won, up one trillion won compared to 3Q 2022.

© Aju Business Daily & www.ajunews.com Copyright: All materials on this site may not be reproduced, distributed, transmitted, displayed, published or broadcast without the authorization from the Aju News Corporation.