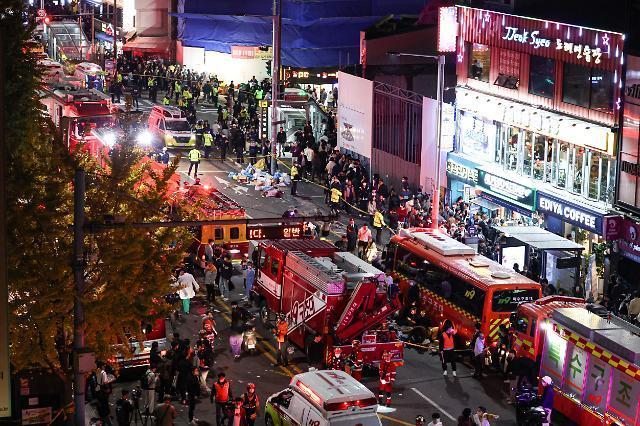 SEOUL -- In a bid to prevent tragic accidents like the Itaewon Halloween stampede accident that left 159 people dead and dozens of people injured in October 2022, South Korea has launched a special management program that will monitor and examine local festivals for possible safety hazards and prevent accidents.

The night of Halloween on October 30, 2022, is remembered as one of South Korea's worst safety accidents. 159 people were killed and 76 others injured during a deadly stampede in Itaewon, a district near central Seoul, when more than 100,000 people flocked to the party district late at night to celebrate Halloween. According to firefighters, the majority of the victims were teenagers and in their 20s.

The tragic accident took place on a Saturday night at about 10:20 p.m. (1320 GMT) when partygoers were flocking to the area near a subway station in Itaewon. Huge foot traffic was bottlenecked in a T-shaped sloped, narrow alley that was about four meters (13 feet) wide. According to witnesses, a person tripped over and more people fell over in human dominos. The Itaewon Halloween festival did not have a host organization and was held voluntarily by people who flocked to the party district to enjoy the festivities.

The autumn period is filled with small and large festivals held by local governments and organizations because of the beautiful weather. The most iconic autumn festivals operated by local governments are -- the Seoul International Fireworks Festival scheduled on October 7, and the Busan International Fireworks Festival scheduled on November 4. Local city governments predict that at least one million people will participate in each festival.

The interior ministry said that South Korea's various government sectors including the administrative and law-enforcing sectors jointly launched a special program on September 27 to manage local festivals, especially the large ones that attract crowds of more than one million people.

The program will include inspections of festivals and their venues, monitoring of crowds, and emergency counteractions in cases of accidents. The program will last until November 30 and the government will also monitor and manage the safety of local festivals like the Itaewon Halloween festival that has no hosts.

"We expect some six hundred festivals to be held in October and we expect the largest number of festival participants at this time of the year. We will do our best so that people can enjoy the festivities safely by managing the safety through cooperation with local governments," the Interior and Safety Minister Lee Sang-min said on October 4.

© Aju Business Daily & www.ajunews.com Copyright: All materials on this site may not be reproduced, distributed, transmitted, displayed, published or broadcast without the authorization from the Aju News Corporation.