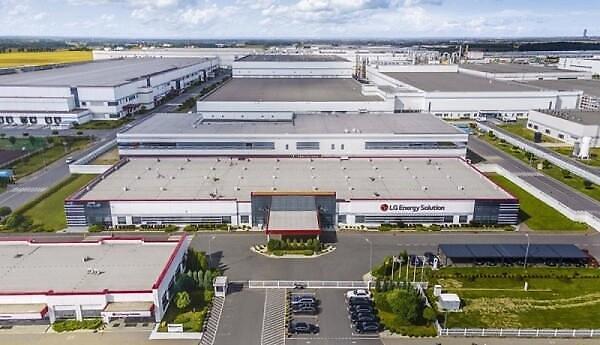 SEOUL -- LG Energy Solution, the battery-making wing of South Korea's LG Group, estimated that its operating profit in the third quarter of 2023 was 731.2 billion won ($545.7 million), up 40.1 percent from a year ago. This is the highest record in the third quarter for the battery maker, which has strived to build supply chains in North America.

LG Energy Solution (LGES) said on October 11 that its operating profit reached 731.2 billion won and sales increased to some 8.2 trillion won in 3Q 2023. The company's sales rose about 7.5 percent year-on-year. LGES earlier revealed its plan to achieve annual sales growth of more than 30 percent in 2023.

To supply its electric vehicle (EV) batteries, LGES has partnered with five global automakers -- Volkswagen, General Motors (GM), Toyota Motor, Hyundai Motor, and Renault-Nissan-Mitsubishi Alliance. The battery producer aims to operate two independent factories and six joint venture plants in North America including Ultium Cells, a joint venture with GM. Ultium Cells' battery plants in Ohio and Tennessee already started their operation and its third factory will be built in Michigan.

The battery maker has also expanded its strategic partnership with battery material producers in North America to meet the inflation reduction act (IRA) incentive conditions, which offers up to $7,500 in tax credits to EVs assembled in North America and contain more than a certain percentage of core minerals extracted in the region. LGES will receive 19,000 tons of cobalt sulfate, a key material for high-capacity electric vehicles (EVs), from Canada-based Electra between 2025 and 2029. The South Korean company will also cooperate with other Canadian firms including Avalon and Snow Lake Lithium.

LG Chem, the chemical unit of LG Group, also signed an agreement with Toyota to supply cathode materials worth 2.8 trillion won to the Japanese carmaker's North American battery plant between 2023 and 2030.

© Aju Business Daily & www.ajunews.com Copyright: All materials on this site may not be reproduced, distributed, transmitted, displayed, published or broadcast without the authorization from the Aju News Corporation.