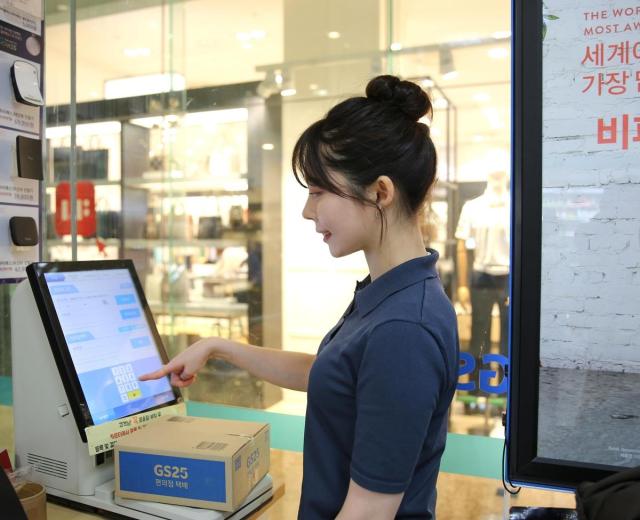 SEOUL -- Half-price small parcel delivery services operated by convenience store franchises are gaining popularity among secondhand item traders, market data showed.

South Korea has various logistics services mainly operated by major conglomerates such as CJ Group and Hanjin. Such services offer small parcel delivery services for about 5,000 won ($3.7) per box. Packages normally arrive at their destinations in two days. Larger parcels are more expensive but they also arrive at customers' doorsteps in just a few days.

The half-price parcel service was first introduced to South Korea in 2019 by GS Retail, the operator of convenience store franchise GS25. GS uses its own logistics network for the distribution of items that are sold in GS25 stores. The service costs about 2,000 won per box and normally takes about three days for delivery. Each store plays the role of a small logistics center where customers send and receive their parcels.

CU, the country's top convenience store franchise operator, also released a similar half-price parcel delivery service to rival GS25 in 2020. Currently, GS25 has some 75 percent market share in South Korea's half-price parcel service while CU seeks to expand its foothold in the market using the vast network of its stores.

According to CU on October 12, the number of parcel deliveries made by the convenience store chain during the first nine months of 2023 increased by 90 percent compared to the same period a year ago. The delivery runs of GS25 also increased by 13.4 percent with a monthly average of about one million deliveries.

The cheap parcel delivery service operators think that South Korea's accelerated secondhand item market boosted the half-price parcel delivery service industry. According to a survey conducted by GS25, about 72 percent of customers used the parcel delivery service for secondhand item trading. Data released by South Korea's internet watchdog showed that the country's secondhand item trading market which stood at four trillion won in 2008 is predicted to reach 30 trillion won in 2023.


© Aju Business Daily & www.ajunews.com Copyright: All materials on this site may not be reproduced, distributed, transmitted, displayed, published or broadcast without the authorization from the Aju News Corporation.