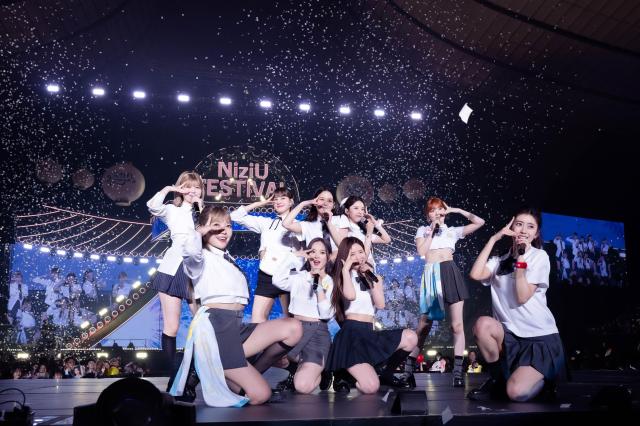 SEOUL -- NiziU, a nine-member Japanese girl band, will roll out its Korean language-based album "Press Play" to make its official debut in South Korea. The group, debuted in December 2020, was created through a joint global audition project by South Korea's JYP Entertainment and Sony Music, a top music label in Tokyo.

The girl band was formed through the first season of the audition show Nizi Project in 2020. The girls who were under control by JYP for training in South Korea are especially popular in Japan. The group attracted about 185,000 audience through its Japan tour between July and September 2023. A total of 17 concerts were held in eight cities including Tokyo, Osaka, and Hokkaido. In December 2022, group members performed at Tokyo Dome, an indoor stadium regarded as the "dream stage" among Japanese artists.

All NiziU members are Japanese aged between 18 and 22. The 18-year-old member named Nina is the only member with dual nationality -- Japanese and American.

JYP Entertainment said in a statement that NiziU's album "Press Play" will be released at 6 p.m. (0900 GMT) on October 30. The album consists of three songs -- "HEARTRIS," "Lucky Star," and the Korean version of "Paradise," a Japanese language song rolled out in May 2023. A YouTube video showing each member introducing themselves in Korean was uploaded on October 13.

In July 2023, JYP released the second season of Nizi Project to form a new global boy band. More than 10,000 applicants auditioned for the audition show titled "Nizi Project Season 2" from 11 cities including New York, Los Angeles, and Nagoya. The South Korean agency also collaborated with Republic Records, an American record label that includes Taylor Swift and Ariana Grande, to create an English-speaking girl band with K-pop features.

© Aju Business Daily & www.ajunews.com Copyright: All materials on this site may not be reproduced, distributed, transmitted, displayed, published or broadcast without the authorization from the Aju News Corporation.