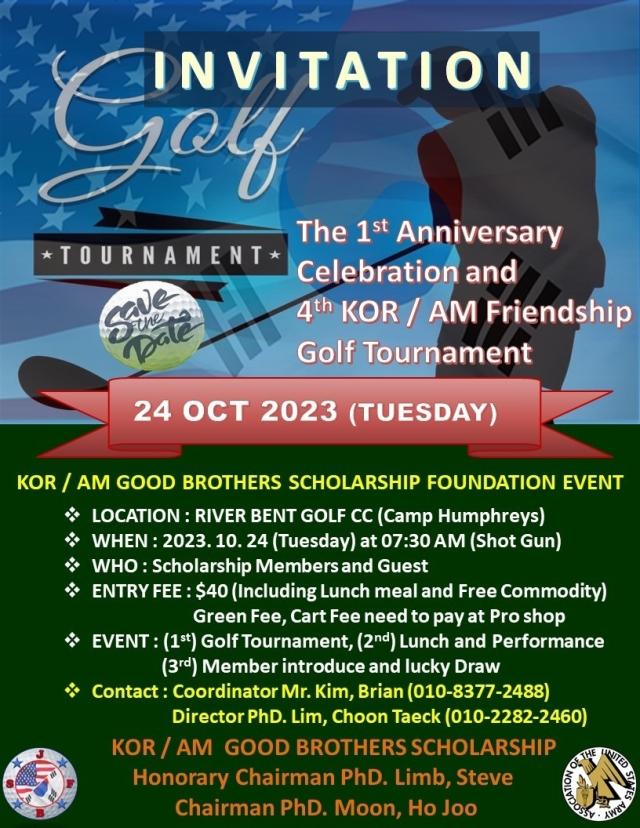 SEOUL -- KOR/AM, a scholarship foundation for children of United States soldiers in South Korea, will host a golf event to mark its first anniversary. Profit made through the golf tournament will be used to award scholarships to students attending schools in the U.S. military bases in South Korea.

About 28,000 U.S. troops are currently stationed in South Korea, technically at war with North Korea. Military bases are located in various regions including Pyeongtaek, 70 kilometers (43 miles) south of Seoul, the southern industrial city of Daegu, and Seoul's central district of Yongsan. Children of U.S. soldiers can attend American elementary, middle, and high school in the base.

KOR/AM said in a statement the golf event will take place at River Bent Golf CC at Camp Humphreys in Pyeongtaek on October 24. The tournament will be carried out in the form of a "shotgun start" in which all golfers tee off simultaneously. "Members of KOR/AM, their relatives, U.S. soldiers, and invited guests can take part in the game," the association's chairman Moon Ho-joo told Aju Korea Daily. U.S. soldiers are required to pay $40 and invited guests should pay 270,000 won ($199.1).

"We have collected about 200 million won so far," Moon said, adding that some of his profit would be used to offer scholarships. According to the chairman, his foundation currently has 106 members.

The event will start at 7 a.m. and its closing ceremony is scheduled at 4 p.m. Camp Humphreys is the largest overseas military installation outside of the U.S. territories with about 3,454 acres (13.9 square kilometers).

© Aju Business Daily & www.ajunews.com Copyright: All materials on this site may not be reproduced, distributed, transmitted, displayed, published or broadcast without the authorization from the Aju News Corporation.