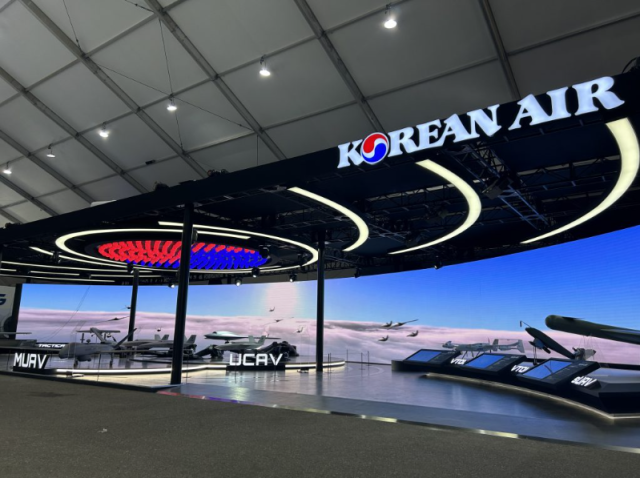 SEOUL -- Korean Air, South Korea's flag carrier, will showcase its stealth unmanned aerial vehicle at "ADEX," an aerospace and defense exhibition in Seoul's satellite city of Seongnam. The company has carried out a military project to develop a low-observable unmanned aerial vehicle squadron since August 2022.

In August 2022, the flag carrier was selected as the preferred bidder for the development of a squadron that involves one manned aircraft and three to four stealth unmanned aerial vehicles (UAVs) capable of conducting missions simultaneously. The UAV squadron will support and escort a manned aircraft while carrying out independent missions such as surveillance, electronic interference tactics, and precise shooting.

Korean Air said in a statement that its multipurpose stealth UAV will be displayed at Seoul ADEX 2023, at a military airport in Seongnam, south of Seoul, for six days starting on October 17. Along with the stealth UAV, Korean Air will present other products including a ground control vehicle, launch pad, and low probability of intercept (LPI) unmanned aircraft with extremely low probability of detection. A total of 550 companies from 35 countries will take part in the exhibition.

Korean Air and the Korea Research Institute for Defense Technology Planning and Advancement (KRIT), a state defense technology institute, have worked together to develop the hull structure of low-observable UAVs. They were also involved in the development of UAV surface materials designed to absorb radio waves and control surface currents.

ADEX is South Korea's major defense exhibition. It is hosted by the Korea Aerospace Industry Promotion Association, Korea Defense Industry Association, and Korea Trade-Investment Promotion Agency. The event is sponsored by government organizations such as the Ministry of National Defense and the Ministry of Trade, Industry and Energy.

© Aju Business Daily & www.ajunews.com Copyright: All materials on this site may not be reproduced, distributed, transmitted, displayed, published or broadcast without the authorization from the Aju News Corporation.