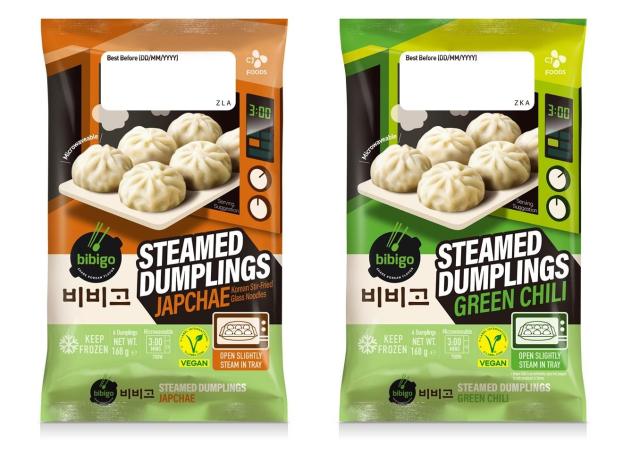 SEOUL -- CJ Cheiljedang, a key subsidiary of South Korea's food and entertainment conglomerate CJ Group, has rolled out plant-based dumpling products in Britain, Australia, and Singapore. The plant-based products can be easily cooked using a microwave as they are provided with dumpling trays. The products are included in Cheiljedang's premium ready-to-cook product brand "Bibigo."

The food company has nurtured Bibigo as a global brand. The brand has various food items including dumplings, kimchi, a traditional fermented vegetable dish, and Jeonbokjuk, a Korean-style porridge made with abalone. In 2022, Cheiljedang's overseas food sales surpassed 5 trillion won.

According to market research firm Statista, the global vegan meat market which stood at $10.11 billion in 2022 is projected to reach $33.9 billion in 2027. Cheiljedang has sold its vegan dumplings in some 30 countries including Britain, Australia, Singapore, and India. Without disclosing its exact sales amount, the company said its export amount in the first three quarters this year tripled compared to the same period in 2022.

Cheiljedang said in a statement on October 18 that its new plant-based dumplings were released in Britain, Singapore, and Australia. Unlike the previous version, the new products are provided with a dumpling tray. The new steamed dumpling items are available in two types -- one with red chili pepper and the other with Japchae, a stir-fried noodle dish with beef and various vegetables.

Vegan meat is gaining recognition for its low-carbon characteristics. Data released by the Food and Agriculture Organization of the United Nations (FAO) showed that greenhouse gases emitted by the livestock industry account for some 15 percent of the world's total greenhouse gas emissions. By reducing the consumption of meat and dairy products, the total amount of emissions from animal-based food can be significantly reduced.

© Aju Business Daily & www.ajunews.com Copyright: All materials on this site may not be reproduced, distributed, transmitted, displayed, published or broadcast without the authorization from the Aju News Corporation.