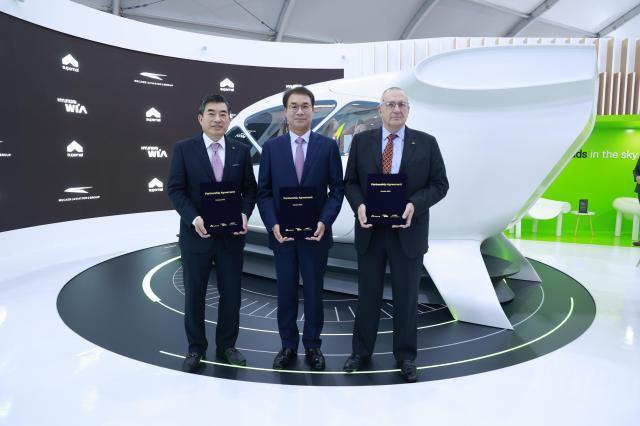 SEOUL -- Hyundai Wia, a parts-making wing of South Korea's Hyundai auto group, forged a partnership with Supernal, an independent urban air mobility company set up by Hyundai's United States office, in a bid to develop special landing systems for flying taxis.

Urban air mobility (UAM) is infrastructure for commercial flying passenger vehicles that includes vertiports and control towers. Aerial vehicles are required to fly through designated aerial corridors to prevent accidents and improve the safety of pedestrians on the land. Vertiports will be placed on safe places like rooftops.

Through UAM Team Korea, a public-private consultative body, South Korea aims to commercialize manned drone taxis in 2025. Remote-controlled vehicles will be adopted in 2030 and a fully autonomous service in 2035. A safety manager will board each flying vehicle until pilots are no longer needed.

Supernal, headquartered in Washington D.C., was established in late 2021 in the U.S. to conduct research and development projects for electric vertical take-off and landing vehicles (eVTOLs). The company had previously unveiled a blueprint for a commercial UAM project that is scheduled to be released in 2028. An eVTOL craft will be released in 2030.

Hyundai Wia said that the company signed a memorandum of understanding with Supernal to develop and manufacture UAM's landing systems by 2028. The parts maker said the company plans to receive airworthiness certification from the U.S. Federal Aviation Administration (FAA) for the to-be-developed "wheel-type landing system" for flying urban vehicles.

A standard certificate of airworthiness (CoA) issued by the FAA is a permit for commercial passenger or cargo operation of an aircraft. More than 1,300 engineers, scientists, inspectors, test pilots, and other experts are involved in the certification process to check and analyze the design, production, and airworthiness of aircraft.

The landing system for UAMs to be developed by Hyundai Wia and Supernal will have a "health monitoring" feature that will allow operators and managers to monitor and diagnose the integral structure of vertiports, which are vertical landing pads, to reduce maintenance costs and prevent safety accidents.

Hyundai Wia said the company will utilize its aircraft construction know-how to develop the next-generation vertiports. The parts maker provides landing systems for T-50, South Korea's homemade supersonic trainer jet, and homemade military light attack helicopters.

"We are happy to herald Hyundai's technology capability in the fields of future mobility including UAM. We will continue our research and development to create the world's top-class flying vehicle landing systems," Hyundai Wia said in a statement on October 18.

© Aju Business Daily & www.ajunews.com Copyright: All materials on this site may not be reproduced, distributed, transmitted, displayed, published or broadcast without the authorization from the Aju News Corporation.