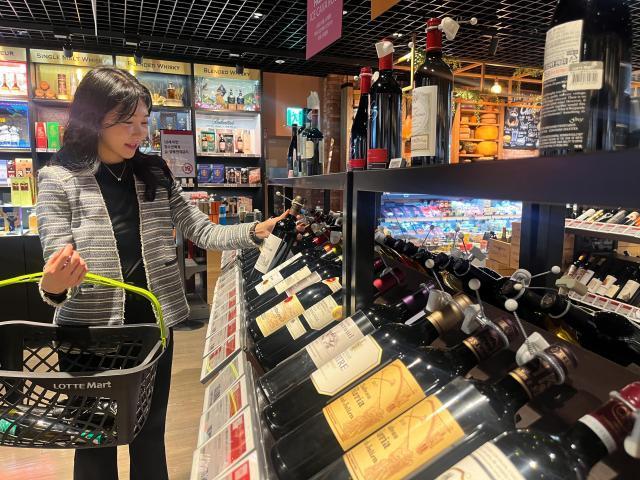 SEOUL -- Lotte Mart, the mega-mart franchise operated by South Korea's confectionary giant Lotte Group, will seek to attract wine and whisky lovers through a special autumn sale event. While wine maintains its position as one of the country's favorite alcoholic beverage types favored by middle-aged consumers, whisky has garnered explosive popularity among young consumers in their 20s and 30s during the last five years.

Whisky was the icon of old people's drinking culture related to the "bomb," a South Korean-style cocktail that is made by dropping a shot glass full of whisky into a glass half-filled with beer. The bomb cocktail was favored by businessmen who wished to get drunk fast so that they could hit the road home after getting drunk quickly.

Drinking whisky on ice or straight was also considered an extravagant drinking habit because a cheap bottle of whisky would cost at least ten times more than a bottle of Soju, a traditional Korean distilled liquor, which costs about 1,500 won ($1.1) for a 360-milliliter bottle. Many South Koreans favor the Soju version of the bomb, which replaces whisky with traditional distilled liquor to make the cocktail cheaper.

Lotte Mart said that the mega-store franchise will roll out a two-week big sale program for wines and whiskies at its stores and MAXX, Lotte's warehouse-type discount stores, starting on October 19. The special alcoholic beverage sale event is held every season, Lotte said, adding that customers will be introduced to various types of affordable drinks that can be enjoyed at end-of-the-year home parties.

According to exports and imports data released by South Korea's state customs service, a total of 8,443 tons of whisky, including Scotch whisky, bourbon whisky, and rye whisky, was imported in the first quarter of 2023, up 78.2 percent on-year. The whisky imports in the 1Q 2023 marked the highest since the customs service started recording imports of whisky in 2000.

Whisky is mainly consumed by young people in their 20s and 30s who like to make weaker cocktails such as the Japanese highball, a mixture of whisky, tonic water, carbonated water, and other ingredients such as lemon juice or fruit syrups.

Because the main consuming group of younger generations favors cheaper whisky to make cocktails, the total sum of exports has not increased as the total volume. Total imports of whisky worth $64.7 million were brought into South Korea, up 24 percent from the same period a year ago.

© Aju Business Daily & www.ajunews.com Copyright: All materials on this site may not be reproduced, distributed, transmitted, displayed, published or broadcast without the authorization from the Aju News Corporation.