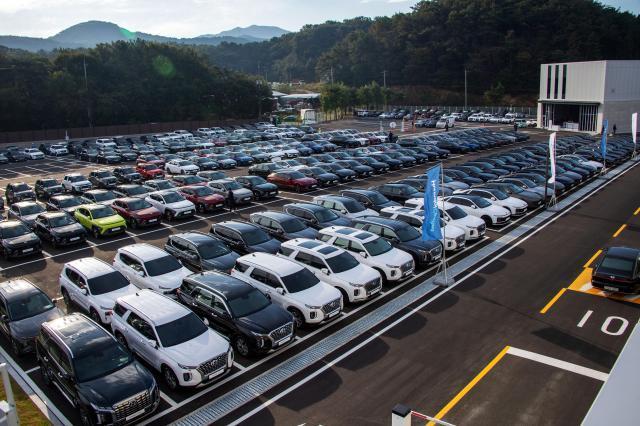 SEOUL -- Hyundai Motor will make a foray into South Korea's used car market dominated by small and medium-sized car dealers. The world's third-largest carmaker will differentiate its service by the thorough analysis and tests of vehicles under the motto of "Made by us, Cared by us."

South Korea's used car market which is worth about 30 trillion won ($22.1 billion) is mainly comprised of small-sized dealers listing their products on used car trade platforms operated by major companies. It is vital for buyers to learn about the models that they wish to buy in order not to purchase overpriced used vehicles.

The carmaker said that it will launch the used-car trading service on October 24. "It has been more than 50 years since the launch of Hyundai's first independent production model Pony in 1975. Now we are looking to make another mark in the used car business," Hyundai Vice President Yoo Won-ha told reporters during a press conference in the southern city of Yangsan on October 19.

The South Korean government's de-regulation program designed to allow major companies into the domestic used car markets took Hyundai to officially launch its used car business three years after the company announced its plans. For its used car service, Hyundai prepared two used car certification centers in Yongin some 40 kilometers South of Seoul, and Yangsan, a neighboring city of Busan, South Korea's main maritime gateway located at the southeastern edge of the Korean Peninsula.

According to Hyundai, the certification center in Yangsan sized 31,573 square meters, which is about the size of five football fields, can commoditize up to 15,000 used cars annually. Used cars brought into the centers will be tested in 287 categories and commoditized. The Yongin center is about the size of a football field and is capable of commercializing up to 30 cars per day.

All cars will go through a seven-step process that involves engineers thoroughly checking the performance, interior, exterior, and integrity of the vehicles. When cars are checked and repaired, they are washed before being moved to an offline showroom.

Hyundai also adopted artificial intelligence to offer the right price for customers. AI will analyze the prices of similar vehicles to set reasonable prices. The carmaker said that it aims to sell 5,000 used cars in 2023 and 20,000 Hyundai-certified cars in 2024.

© Aju Business Daily & www.ajunews.com Copyright: All materials on this site may not be reproduced, distributed, transmitted, displayed, published or broadcast without the authorization from the Aju News Corporation.