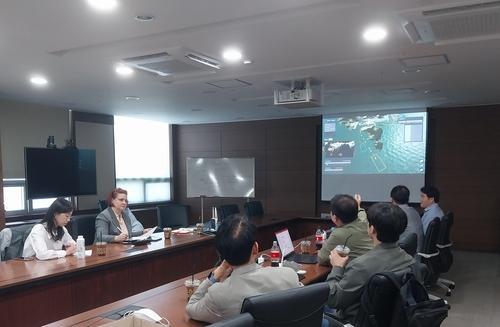 SEOUL -- The operator of South Korea's main maritime gateway in the southern port city of Busan is discussing whether the port operator would cooperate with an international financial institution to help developing countries in the Asia-Pacific region adopt smart port technology. The two sides have exchanged views on providing related technologies to Indonesia and Viet Nam for the digitalization of their ports.

A smart port is a future port system that incorporates advanced technologies such as artificial intelligence (AI) to upgrade the performance of seaports. In July 2020, the Busan Port Authority (BPA) was selected by the science ministry to join the development of autonomous port vehicles and remote-controlled equipment. For its digital transformation, Busan has also adopted a blockchain-based terminal-to-terminal cargo transit system to efficiently track and manage shipments.

"We will review partnership opportunities with the Asian Development Bank to expand our smart port technology for Asia's developing nations," BPA's port research bureau head Lee Jae-hoon told Aju Korea Daily on October 20. The port operator is currently running a digital twin platform for Pier 1 of Busan Port.

A digital twin is a virtual clone of an object or an infrastructure. Digital twins are frequently used as testing grounds for new technologies or other elements to figure out the results of real-life situations simulated in a virtual space. Port operators can improve work efficiency by monitoring the ship's location in real time and predicting its arrival time at the terminal. Port congestion can also be reduced by detecting the location of trucks and sharing information on containers scheduled for arrival and departure.

© Aju Business Daily & www.ajunews.com Copyright: All materials on this site may not be reproduced, distributed, transmitted, displayed, published or broadcast without the authorization from the Aju News Corporation.