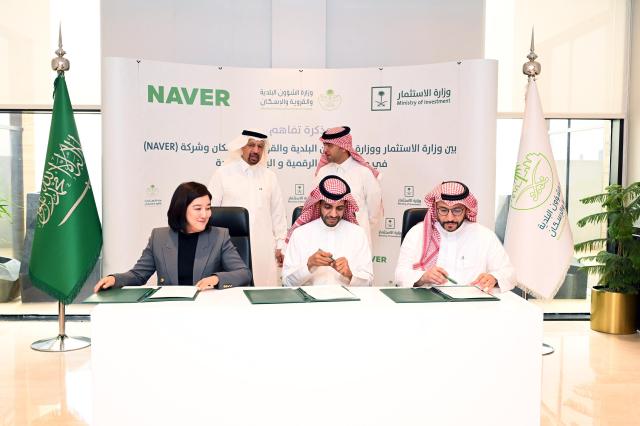 SEOUL -- Naver, a web service giant in South Korea, has secured an order worth $100 million to build virtual replicas of Saudi Arabian cities including Riyadh, Mecca, and Medina. The Middle Eastern country will use the digital twin platform to create urban infrastructure and test disaster situations, such as flooding.

A digital twin is a virtual clone of an object or an infrastructure. Digital twins are frequently used as testing grounds for new technologies or other elements to figure out the results of real-life situations simulated in a virtual space. Business operators can demonstrate their products under many different conditions without causing an irreversible effect in real life.

Naver said the company won an order from Saudi Arabia's municipal affairs ministry to create a digital platform that actualizes five Saudi Arabian cities. The announcement was made on October 24 during South Korean President Yoon Suk-yeol's state visit to the Middle Eastern country. According to South Korea's presidential office, the portal service operator will receive about $100 million for the project.

Using artificial intelligence (AI) technology, Naver will also assist the Middle Eastern nation in setting up NEOM, a smart city powered by renewable energy on the coast of the Red Sea. Saudi Arabia has revealed its plan to carry out the project by investing around $1 trillion. A smart city platform uses AI, autonomous technologies, and big data to process real-time information collected through various kinds of sensors installed throughout the city.

In March 2023, Naver partnered with the Ministry of Municipal and Rural Affairs and Housing for the digital transformation of Saudi Arabia. Saudi Arabia is working to diversify its economy and develop its public service sectors, including health, education, and tourism, rather than relying solely on the oil business through a state project called "Saudi Vision 2030."

© Aju Business Daily & www.ajunews.com Copyright: All materials on this site may not be reproduced, distributed, transmitted, displayed, published or broadcast without the authorization from the Aju News Corporation.