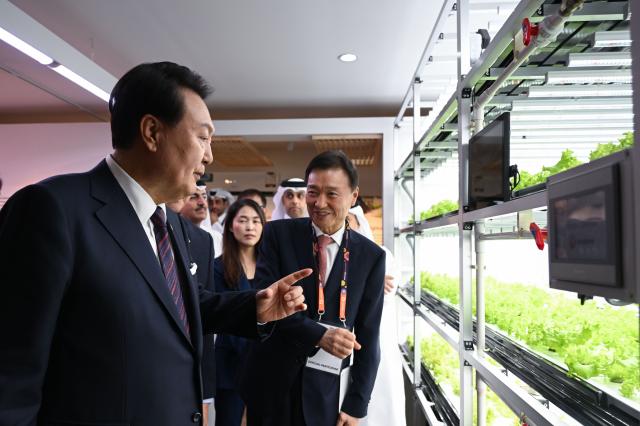 SEOUL -- South Korean President Yoon Suk-yeol will meet Qatari Emir Sheikh Tamim bin Hamad Al Thani during a two-day state visit to the Middle Eastern country. The two leaders will discuss cooperation in various sectors including defense, agricultural, cultural, and investment sectors.

Yoon arrived in Qatar on October 24 for his state visit schedule designed to boost economic ties between South Korea and Qatar. The South Korean government had said that it would focus on seeking cooperation in the energy and construction sectors as well as other areas. The two countries will mark the 50th anniversary of establishing economic relations in 2024.

South Korea's Presidential Office said that Yoon will meet his Qatari counterpart on October 25 and discuss ways to upgrade the cooperation between the two countries to become top players in high-tech industries such as liquefied natural gas (LNG), renewable energy, public health, and cultural industries.

For the first schedule in Qatar, Yoon visited an international gardening exhibition held at Qatar's capital Doha. The South Korean president visited booths operated by South Korea's government and urged researchers to boost the development of smart farm technologies.

"We will establish a cooperation network between governments to expand exports of smart farm technologies that were normalized after the restoration of economic diplomacy," a presidential office official told reporters during a press briefing on October 25.

© Aju Business Daily & www.ajunews.com Copyright: All materials on this site may not be reproduced, distributed, transmitted, displayed, published or broadcast without the authorization from the Aju News Corporation.