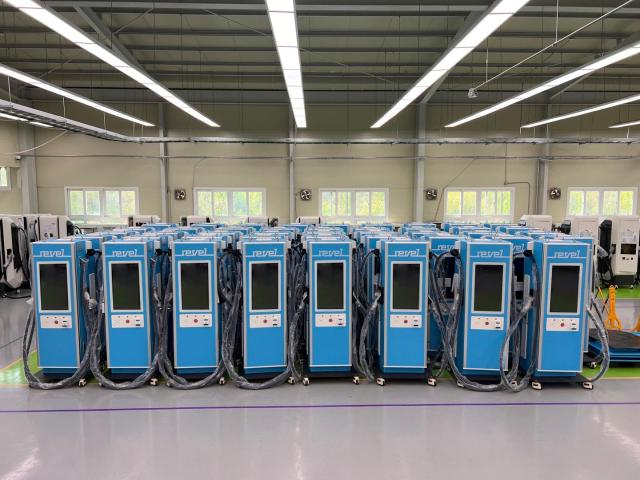 SEOUL -- SK Signet, an electric vehicle charger manufacturer affiliated with South Korea's conglomerate SK Group, has supplied its 400 kilowatt-class electric vehicle chargers to Revel Transit, a New York-based ridesharing service operator. The South Korean EV charger maker has received $4.2 million through the supply deal. However, details of the deal were not disclosed. Revel will install the chargers in various regions in New York and California.

Revel operates EV charging stations and ridesharing services using Tesla vehicles and electric scooters mainly in New York. The company is currently expanding its business to the western regions of the United States. In 2022, global asset manager BlackRock invested $100 million in Revel.

SK Signet said on October 25 that the company's EV chargers called "V2" were delivered to Revel. "The V2 can charge an EV battery in about 15 minutes," SK Signet's communications manager Kwon Hye-youn told Aju Korea Daily. The V2 charger can charge up to four EVs at the same time when it is integrated with a 600kW-class power cabinet. Starting in December 2023, the products will be installed in New York and California.

"In addition to CPO (cost per order) businesses, we plan to strengthen our position in the rapidly growing U.S. fast-charging market by securing a diverse range of customers, including large transportation companies," SK Signet CEO Shin Jeong-ho said in a statement.

The contract can help SK Signet to receive subsidies from the U.S. government pushing for the National Electric Vehicle Infrastructure (NEVI) project. The government has set a subsidy budget of about $5 billion by 2030 for the NEVI program. This is a large-scale project to build a total of 500,000 charging stations across the U.S. by installing fast or super-fast charging stations every 50 miles (80 kilometers) on highways. To receive subsidies, foreign companies should meet various requirements such as producing chargers in the U.S.

© Aju Business Daily & www.ajunews.com Copyright: All materials on this site may not be reproduced, distributed, transmitted, displayed, published or broadcast without the authorization from the Aju News Corporation.