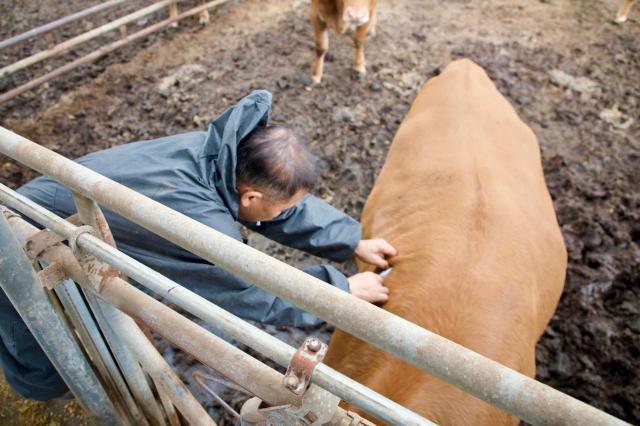 SEOUL -- Lumpy skin disease vaccines for some four million cattle will be brought into South Korea where the first outbreak of the extremely infectious animal disease was spotted for the first time in mid-October. The South Korean government predicted that the infection rate of the disease will eventually drop when cattle produce antibodies after vaccination.

Lumpy skin disease (LSD) is a viral disease transmitted by blood-feeding insects such as flies, mosquitoes, and ticks. When a cow is infected with the virus, the animal would show symptoms of high fever, enlarged superficial lymph nodes, and multiple nodules, lumps measuring up to five centimeters (about two inches) on the skin.

Normally, LSD outbreaks take place during summer and in early autumn when the temperature is high and the air is humid. Most cattle can develop lifelong immunity after they recover from LSD, but many farmers use vaccines to prevent cattle from catching the disease. There was no official outbreak of LSD until the first reports of the disease in mid-October 2023.

The emergency headquarters for the control of LSD, operated by the government, said that the animal disease control tower decided to purchase more vaccines to stop the early-stage spread of the disease. Some 1.3 million doses of vaccines will be acquired by October 28 and 2.7 million doses will be acquired by October 31.

"We plan to finish the vaccination in every cattle farm by early November as soon as LSD vaccines are brought into South Korea," agriculture ministry's agricultural innovation policy bureau head Kwon Jae-han said in a statement on October 25. All transportation of cattle is to be temporarily stopped until vaccinations are finished.

A total of 29 cases of LSD were reported as of 8:00 a.m. (2300 GMT) on October 25, and seven cases are being investigated for possible LSD infection. An epidemiological investigation is also being carried out to find the source of the outbreak on the possibility of foreign disease-carrying bugs being carried into South Korea by air current or carrier bugs brought into ports.

© Aju Business Daily & www.ajunews.com Copyright: All materials on this site may not be reproduced, distributed, transmitted, displayed, published or broadcast without the authorization from the Aju News Corporation.