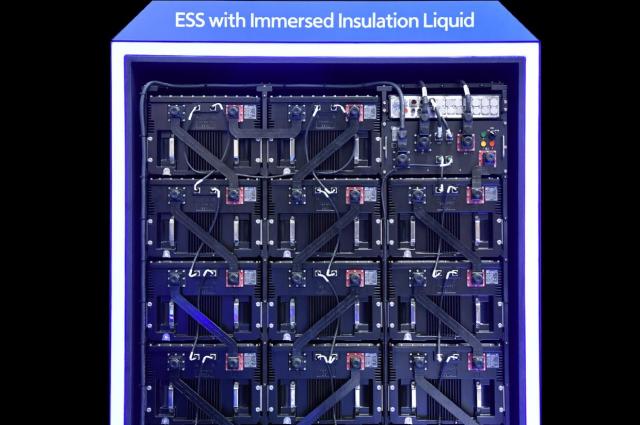 SEOUL -- SK Enmove, the lube-making wing of South Korea's SK Group, will work with Hanwha Aerospace, a global defense solution company, to develop a liquid immersion cooling solution that can cool down energy storage systems for ships. Through the solution, the two groups aim to secure their footholds in the global marine energy storage market.

Demands for maritime energy storage systems (ESS) are growing. An ESS is a power storage system that consists of batteries or specially designed battery packs. An electric propulsion ship equipped with ESS drives a propulsion motor with power stored in batteries or supplied from a generator. According to data cited by SK Enmove, the global ESS market for vessels, which stood at about $2.1 billion in 2021, is projected to reach about $7.6 billion by 2030.

SK Enmove said the company partnered with Hanwha Aerospace for the development of a liquid immersion cooling energy storage system (ESS) for ships. While SK Enmove will create fluids for immersion cooling systems using lube base oil, Hanwha Aerospace will work on marine ESS systems based on lithium battery system technology. To meet the requirements of greenhouse gas emission regulation issued by the International Maritime Organization (IMO), a U.N. maritime safety agency, the two sides will secure certifications for maritime ESS liquid cooling technology from vessel associations in South Korea and abroad.

"Through this cooperation, we will contribute to the liquid immersion cooling market and gain recognition as an energy-efficiency company," SK Enmove's green growth division head Kim Won-ki said in a statement. The partnership was made on October 25 during South Korea's major maritime tech event at the Busan Exhibition and Convention Center (BEXCO).

Data released by market research firm Future Market Insights showed that the global liquid immersion cooling market, which stood at $330 million in 2022, is expected to hit $2.1 billion by 2032. Liquid immersion cooling significantly improves cooling efficiency by submerging data centers in high-performance non-conductive cooling fluids. The technology can reduce overall data center power consumption by 30 percent compared with the chilled air-cooling method.

In March 2022, SK Enmove made an equity investment of $25 million in GRC, an American liquid immersion cooling solution provider for data centers, to beef up its liquid-based thermal management business.

© Aju Business Daily & www.ajunews.com Copyright: All materials on this site may not be reproduced, distributed, transmitted, displayed, published or broadcast without the authorization from the Aju News Corporation.