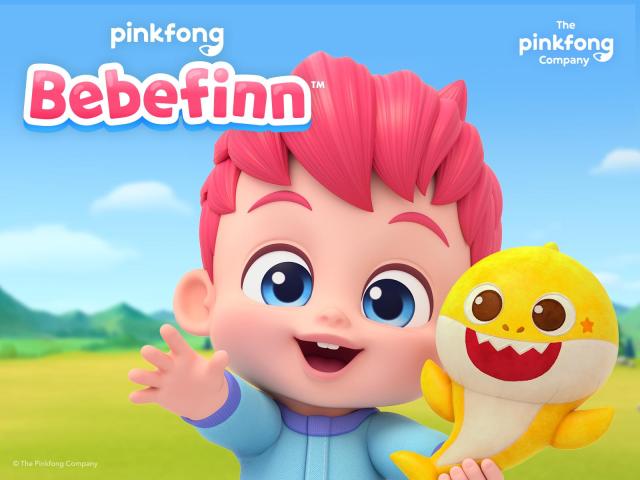 SEOUL -- "Bebefinn," a three-dimensional video animation show featuring the five-member family of a 20-month-old baby named "Finn," topped Netflix's kids TV show chart in the United States. The animation content, created by South Korea's educational entertainment company Pinkfong, ranked in the top 10 on the global streaming giant's chart featuring popular children's content in three other countries -- Ireland, South Korea, and Singapore.

Finn is an animated child who enjoys playing with Baby Shark. He has four family members -- mother, father, brother and sister. Finn's family presents dance movements with catchy songs that are easy to sing along to. The English YouTube channel of Bebefinn has garnered 14.1 million subscribers as of October 2023. The content has about 4 million followers on TikTok. Thanks to its fast-growing popularity, the Bebefinn series was released on Netflix in 190 countries with English, Spanish, and Korean subtitles.

Pinkfong said on October 26 that the animation content topped the over-the-top (OTT) service's kids' show chart in the U.S. Bebefinn entered the top 10 in a total of 18 countries. The content ranked second in Britain, Australia, Canada, and South Africa, and third in Norway, Germany, Mexico, and Chile.

The animation show was created as a follow-up to Baby Shark. Baby Shark depicts a story about a family of great white sharks with colorful visuals and a catchy melody. The "Baby Shark Dance" video uploaded in 2016 garnered more than 13 billion views on YouTube. As of November 2022, the Baby Shark song was played more than 200 million times on the UK Singles Chart, beating Despacito, a popular song released by Puerto Rican artist Luis Fonsi.

© Aju Business Daily & www.ajunews.com Copyright: All materials on this site may not be reproduced, distributed, transmitted, displayed, published or broadcast without the authorization from the Aju News Corporation.