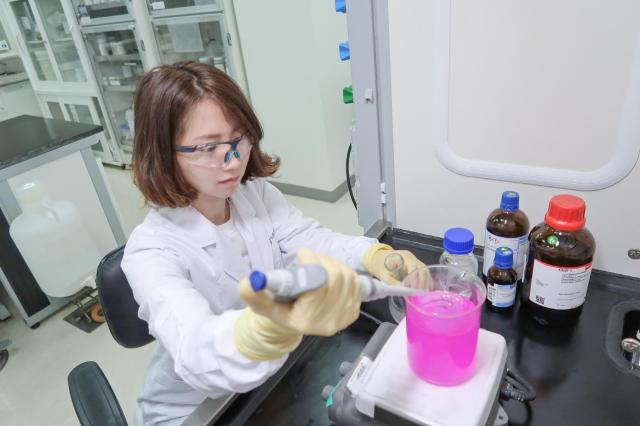 SEOUL -- South Korea's major chemical company LG Chem will produce a raw material for flooring and car seats using discarded polyethylene terephthalate bottles. The conglomerate developed green material called "plasticizer" to meet the demands of its clients striving to export products to North America.

Plasticizers are essential in improving the flexibility and elasticity of polyvinyl chloride (PVC), a synthetic polymer of plastic simply known as vinyl. Compared to conventional building materials, PVCs offer various advantages over conventional building materials, including lightweight features, durability, affordability, and ease of processing.

LG Chem said the company will produce plasticizer using waste polyethylene terephthalate (PET) bottles. The chemical group said its eco-friendly plasticizer was developed at the request of clients focusing on exports to North America. Data cited by LG Chem showed that some U.S. states have adopted policies that require an increase in the use of recycled materials to 30 percent by 2030 from the current 15 percent.

LG Chem has obtained the Global Recycling Standard (GRS) certification, an internationally recognized credential for products containing more than 20 percent recycled materials. "We will speed up our ESG (environmental, social and governance) innovation project by consistently expanding environmentally-friendly products, such as plasticizers and recycled PVCs," LG Chem's PVC/Plasticizer division head Han Dong-yeop said in a statement on October 26.

The company is also working with GS Caltex, a major domestic refiner, to develop mass-production technologies of 3-hydroxypropionic acid (3HP), a raw material for biodegradable plastic and super absorbent polymers used in diapers, paints, coating materials, and carbon fiber. 3HP is produced through a microorganism fermenting process of bio-materials such as glucose and unrefined glycerol derived from vegetable oil. The two sides aim to showcase a prototype of the material in the first quarter of 2024.

© Aju Business Daily & www.ajunews.com Copyright: All materials on this site may not be reproduced, distributed, transmitted, displayed, published or broadcast without the authorization from the Aju News Corporation.