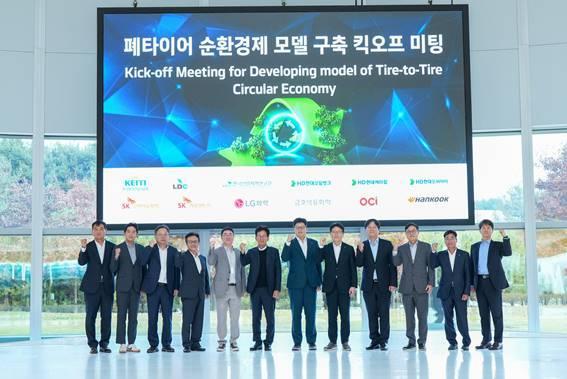 SEOUL -- A consortium of South Korean companies and research institutes will carry out a project to recycle car tires using pyrolysis oil-based materials. Oil extracted from discarded car tires will be refined and supplied to Hankook Tire & Technology, a major tire maker in South Korea.

According to data released by South Korea's conglomerate Hyosung, about 350,000 tons of waste tires are being produced in South Korea. Around 50 percent of them are landfilled, contaminating soil and water, and the remaining 50 percent are reused as fuel. However, most recycled tires also cause severe air pollution and carbon emissions.

Pyrolysis involves intense heat and pressure to break down plastics or polymers such as rubber to extract oil, carbon black, and combustible gases. Carbon black is a solid carbon material that can be used in other applications such as the production of carbon fiber.

HD Hyundai Oilbank, a refining unit of South Korea's Hyundai shipbuilding group, said in a statement that it has joined a consortium to produce car tires using pyrolysis oil. After extracting pyrolysis oil from collected waste tires, the project operators will refine and create raw materials for tires such as carbon black and naphtha.

The recycled materials will be provided to Hankook Tire, which is South Korea's largest tire maker. The consortium involves 12 organizations including LG Chem and SK Geocentric, a chemical company affiliated with South Korea's SK Group. "We hope this project will help South Korea achieve the 2030 nationally determined contributions (NDC) to reduce carbon emissions and gain a competitive edge in transforming low-value-added industries into high-value-added industries," an unnamed HD Hyundai Oilbank official said in a statement on November 1.

Under the NDC commitment, South Korea is required to cut down on its carbon emissions by 44.4 percent, or 149.9 million tons, by 2030 from the 2018 levels. The country aims to achieve carbon zero by 2050.

© Aju Business Daily & www.ajunews.com Copyright: All materials on this site may not be reproduced, distributed, transmitted, displayed, published or broadcast without the authorization from the Aju News Corporation.